Shortly after the official announcement of the PC version, Square Enix released the recommended system requirements to run FINAL FANTASY XV WINDOWS EDITION at 4k resolution. As expected, specifications will be quite high and this should not surprise us too much, since most of the demanding PC games, also need the requirements detailed below:
FINAL FANTASY XV WINDOWS EDITION Recommended System Requirements:
Monitor: 4K with HDR support
Video Card: GTX 1080 Ti
Processor: Ryzen 7 1700 or Core i7 3.4GHz
RAM: 16 GB
Headphones Surround 5.1 or 7.1
Disk Space: 170 GB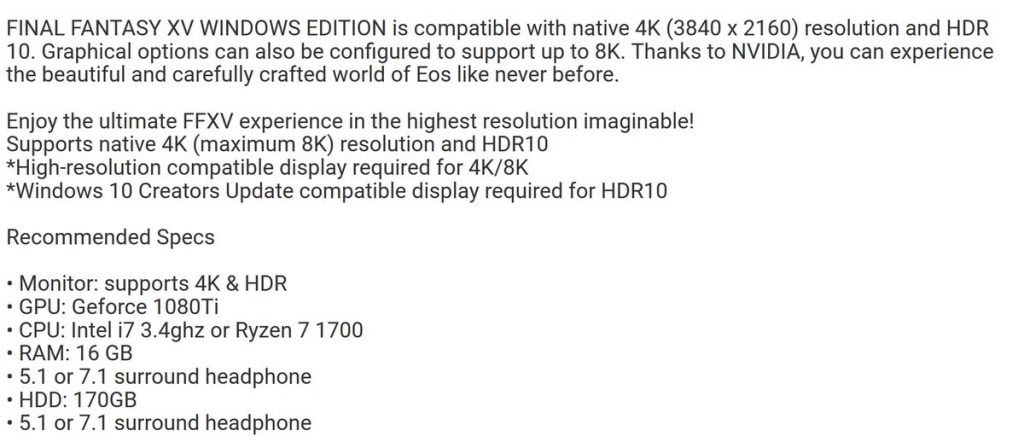 FINAL FANTASY XV WINDOWS EDITION will come loaded with NVIDIA GameWorks technology and other advanced PC features that will add state-of-the-art physical and graphics simulations with support for NVIDIA content capture and sharing tools.
Square Enix will use Luminous Engine, its state-of-the-art graphics engine along with NVIDIA GameWorks and other advanced technologies to make FINAL FANTASY XV WINDOWS EDITION the definitive version of the game with native 4K and 8K resolution support as well as HDR10 and DOLBY ATMOS. In addition, the PC version will come loaded with a large amount of additional content originally found available through the Season Pass, and free updates on consoles, along with a new first person mode.
"With the help of NVIDIA, we are creating a beautiful visual experience in FINAL FANTASY XV WINDOWS EDITION, one that is worthy for this beloved franchise," said Hajime Tabata, Director of FINAL FANTASY XV. "NVIDIA raises the pace of innovation in the industry, and that benefits gamers and developers alike."
FINAL FANTASY XV WINDOWS EDITION will include the following GameWorks technologies to simulate graphics and real-time physics:
NVIDIA Flow – to dynamically create liquid fuel, fire and smoke.
NVIDIA HairWorks – to dynamically create hair and fur that looks real to the characters, animals and monsters that inhabit the game world.
NVIDIA ShadowWorks – to create real shadows that soften as you move away from the light source.
NVIDIA Turf Effects – to create grass and dynamic vegetation in the environment.
NVIDIA VXAO – adds depth and realism based on the physical principles of shadow and light.