As has happened several times in the past, the Microsoft Store appears to have leaked the new release date for the sixth main installment in the Far Cry series "Far Cry 6", after Ubisoft has decided to delay the game on October 29. The previous launch date was scheduled for February 18, 2021.
Featuring performances by renowned actor Giancarlo Esposito (The Mandalorian, Breaking Bad) accompanied by Anthony González (Coco), a score created by film and television composer Pedro Bromfman (Narcos), and an opening sequence directed by the Emmy Award winner. Patrick Clair (Westworld, True Detective), Far Cry 6 brings Hollywood-caliber talent with it to bolster the storytelling experience.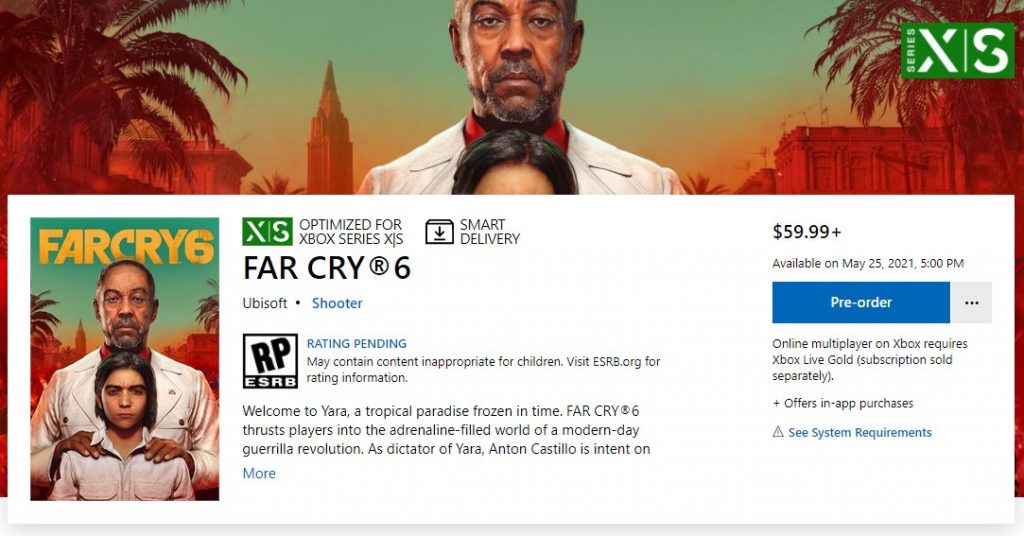 Developed by Ubisoft Toronto, Far Cry 6 plunges players into the heart of a modern guerrilla revolution in Yara, a tropical paradise frozen in time. President Antón Castillo (Esposito) promises to restore his country to its former glory while preparing his son Diego (González) to follow in his footsteps. However, paradise comes at a price, and enriching your country means subjugating those who do not adhere to your vision. As this island nation is in a state of turmoil, players will experience the adrenaline rush and chaos of guerrilla combat as they are swept up in a revolutionary movement with the goal of defeating a tyrant.
Far Cry 6 is currently in development and would be released on May 25, 2021 on Xbox Series X, Xbox One, PlayStation5, PlayStation4, Stadia and Epic Games Store and Ubisoft Store on Windows PC, as well as on UPLAY +, the Ubisoft subscription service. .
Fans who purchase Far Cry 6 on Xbox One or PlayStation 4 will be able to upgrade to a next-generation platform at no additional cost after the launch of Xbox Series X and PlayStation5.