Bethesta announced the update of the HD texture pack for Fallout 4 which will be available from next week and it will not only come to PC, but also for the of the PlayStation 4 Pro. In the console, a native 2k (1440p) resolution is promised with an improved draw distance of trees, grass, objects and NPCs as well as improving the lighting effects.
Fallout 4 – HD Texture Pack  Recommends GeForce GTX 1080 / Radeon RX 490
"There are so many fans who continue to actively play Fallout 4 on Steam that we are excited to announce the release of the high resolution texture pack, which will also be available next week. You can consider this free download as a token of appreciation to our incredible PC fans, who have supported us, not only with Fallout 4, but also with many other games and for decades. "
Now let's talk about most important thing, on PC the new update will occupy 58 GB of additional space on our hard drive / SSD and a new recommended requirements, which the company calls a Intel Core i7-5820K processor, consisting of 6 cores and 12 processing threads (HyperThreading) to a Base / Turbo frequency of 3.30 / 3.60 GHz  with 8 GB of RAM and nothing less than an Nvidia GeForce GTX 1080 and in an oversight, they have recommended AMD Radeon RX 490 with 8Gb VRAM, Bethesda was quick to react and removed the AMD Radeon RX490 from the specs, however you can find below an image we captured prior to that edit.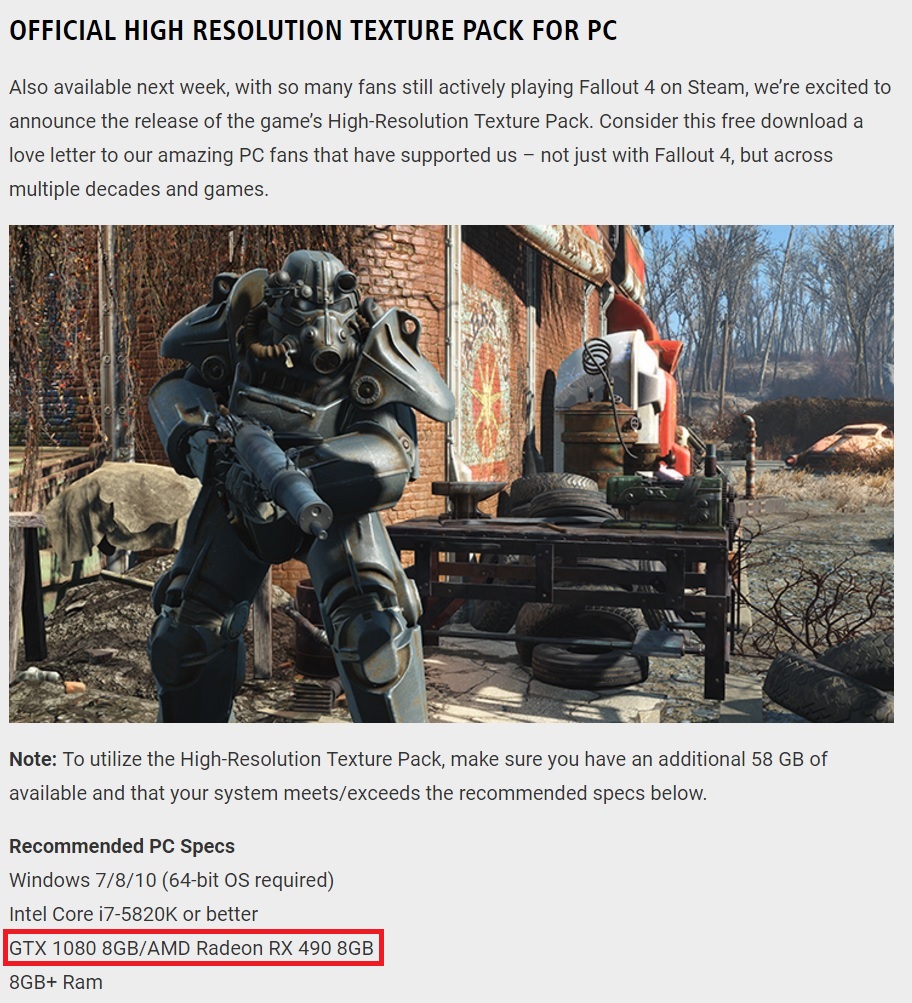 This High-Resolution Texture Pack for Fallout 4 will be made available next week.