One of the main reasons that graphics cards have fallen in price so fast is Ethereum, because mining in China is increasingly punished, to the point that today, the total hash rate of the cryptocurrency network Ethereum has fallen by 19 percent in a single month.
The 'Hash Rate' is the total power that is allocated to the generation of blocks, and represents the amount of hardware that is allocated to the algorithm focused on the use of Graphics cards. This sharp drop in the network's hash rate highlights the enormous impact of recent crackdown on cryptocurrencies in China.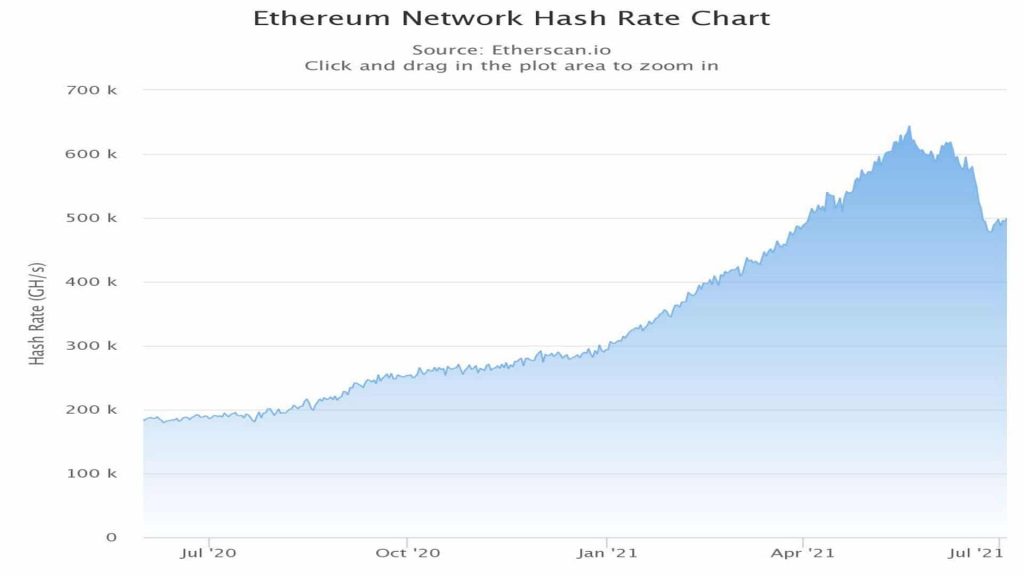 You Might Like: Chinese miners bring 3,000kg mining hardware to the United States
This graph shows a huge drop, which basically represents the systematic closure of mining farms and it seems that the rate finally stabilized after this big drop. In addition to the new policies implemented in China around cryptocurrency mining, the value of Ethereum has fallen by half compared to the value it held in mid-May, although this cryptocurrency is gradually recovering its value since end of June, costing $ 2,342 at the time of writing (vs. $ 4,330 on May 12).
From the maximum Hash Rate of 643.81 TH / s reached in May, we are seeing a stabilization of the total hash rate of the network at 499.55 TH / s. Due to this, the stock of Graphics cards has radically improved and the price of Graphics cards has started to drop radically.