Making the perfect journey on Dishonored 2 can be quite challenging. The game will test us either by pursuing the impossible hands with Raven, moving by Karnaka as ghosts with Emily, or by choosing any other combination. The second update for Dishonored 2 offers even more ways to increase the challenge and / or improve the odds of success. Now you can even repeat a mission to address it in a different way.
Permadeath comes to Dishonored 2 with Iron Mode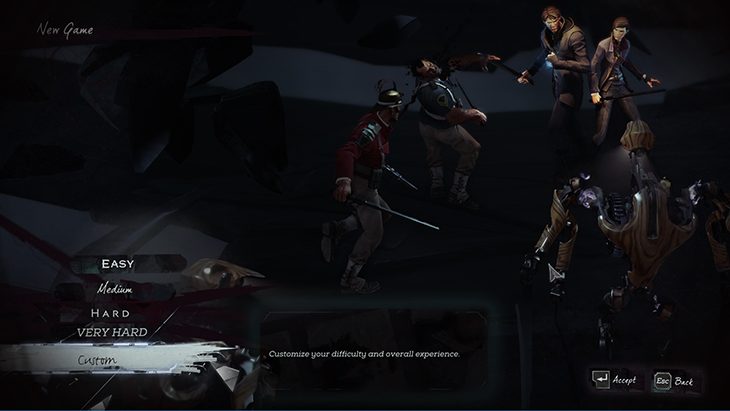 You Might Like: Dishonored 2 Director Recommends GTX 1070 To Run Dishonored 2 At 1080 / 60fps On "Very Low"
The difficulty settings will allow you to further customize your experience. For example, if you like to explore all the options in the game, you can now move a slider bar that adjusts the effectiveness with which you appear from a barrier to prowl. These customized difficulty settings, with more than 20 different sliding bars, will allow you to flip through any detail, from the time it takes to effect anesthetic darts, to how many enemies can attack you at once.
Custom difficulty settings also include a special slider for those looking for the greatest challenge. If you enable Iron Mode when starting a new game, you will face a permanent death and you will not be able to save or load manually. "Hard Mode brings aggression to Dishonored 2," says lead designer Dinga Bakaba. "You will live with the consequences of your actions or you will die permanently."
After downloading game update 2, you can repeat any quest you unlock after installation. In this way, you will have another chance to nail this stealthy style or achieve Impulse Hands. Note: Selectable missions will preserve the status of your journey at the beginning of the mission (character, chaos, runes, money, options, etc.).
Game update 2 is now available as a beta on Steam and it also includes new and improved features, based on player feedback. You can expect its full launch for Xbox One, PlayStation4 and PC on 23 January, 2017.