Dishonored 2, a sequel to the famous series is all set for release next month. The game was developed and published by Arkane Studios and Bethesda Softworks respectively.
Dishonored 2 File Size Revealed, To Require 40 GB Disk Space
Recently, a promotional poster of the Dishonored 2 from the Best Buy was revealed and according to which, the game will require about 40 GB of disk space on your system. Beside the disk space, the poster also mentioned that the game is enhanced for PlayStation 4 Pro. Have a look at the poster below;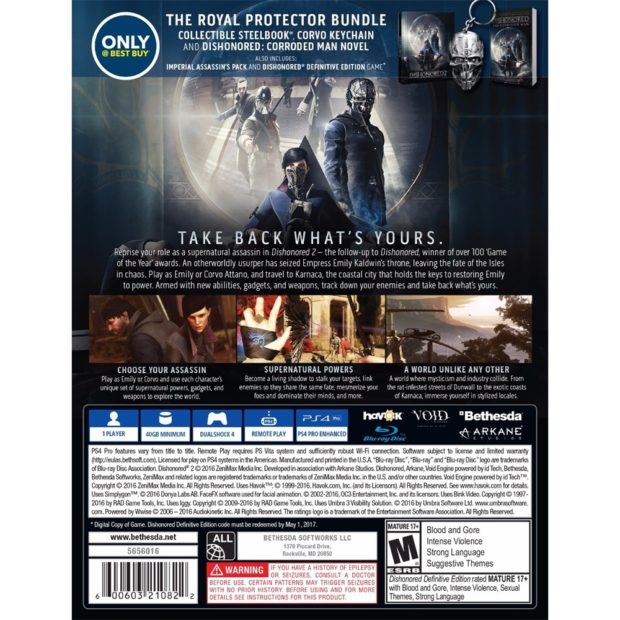 During the official reveal of Sony's new, upgraded console in the PS4 family, it was announced that the Dishonored 2 is among one of those titles which is supported with the new PlayStation 4 Pro. Lately, the developer studio revealed two new Dishonored 2 footages that showcased the differences between Emily and Corvo, executing some daring escapes.
Both Emily and Corvo were seen using their special powers such as Shadow Walk, Dark Vision, Blink ability and much more against their enemies. Check out the latest gameplay trailers of below;
The game is set in the beautiful city of Karnaca, an island split into two.
The game is set for release on November 11th for PC, PlayStation 4 and Xbox One. Co-creative director of Arkane Studios, Harvey Smith while speaking with the Finder said that currently, he has no plans for the Dishonored 3, neither he plans it that far in advance.Stay tuned for more updates!
See Also: Dishonored 2 – New Screenshots and Gameplay Details on Corvo