Dishonored 2 released two days ago across all the platforms along with a day one patch on PS4 and Xbox One. Soon after the release, we saw several reports of game performance issues on PC platform such as crashes, errors, poor frame rates and other issues.
Dishonored 2 Director Recommends GTX 1070 To Run Dishonored 2 At 1080 / 60fps On "Very Low"
Most of the issues were raised on social forums after which the game director confirmed that they are indeed aware of the reported issues and they are under investigation as well, indicating towards a fix in the near future. Bethesda updated its blog regarding the matter and promised an update for the Dishonored 2.
"We are actively working to provide an update to address your concerns. The patch and its release notes will be available in the coming days."
But seems that the situation is getting out of hands, as more players are reporting the issues related to poor frame rates. One follower directly tweeted Harvey Smith asking about the unstable frame rates he was getting on his Core i5 4690K, GTX 1070 and 16GB of memory at 1440p with the game set on "very low".
Smith responded that this system is capable to run at 1080p and 60 fps on very low settings. The tweet seems to be disappeared, however, the screenshot is saved and attached right below;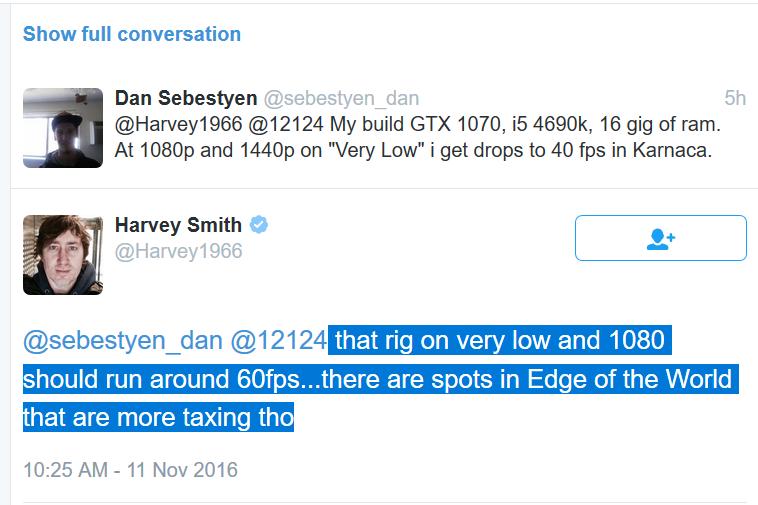 It appears that Dishonored 2 was a victim of poor optimization as the game's requirement suggest GTX 1070 or equivalent to run the game smoothly at 1440p but the response of Harvey Smith concludes that the system equipped with a Core i5 4690K and GTX 1070 should be running the game at 1080p and 60 fps at "very low" settings.
See also: Bethesda: If You Are Facing Performance Issues With Dishonored 2 'Turn Down The Settings'
Surely there's an issue with the optimization and an update will going to fix the game soon. Dishonored 2 is now available for PC, PS4 and Xbox One. Stay tuned for more updates!