Bungie is currently working on Destiny 2, a sequel to the famous online-action game that will be released for the PC platform as well. The gameplay reveal of Destiny 2 is scheduled for today and as the title is becoming the center of attraction, we have been witnessing more speculations related to the game lately.
Earlier, it was reported that the game will be on Steam but a recent leak from reddit user destinyLeaker reports something which wasn't speculated earlier. According to the user, Destiny 2 PC version will not be available on the Steam or Origin, and instead users will be playing it via Battle.net.
The post was deleted some time later, but we have the screenshot of the leak. The user also revealed some new insights to the game's max level, new PvP mode, which will be like the Elimination one, weapons and much more. Have a look into the detailed picture below;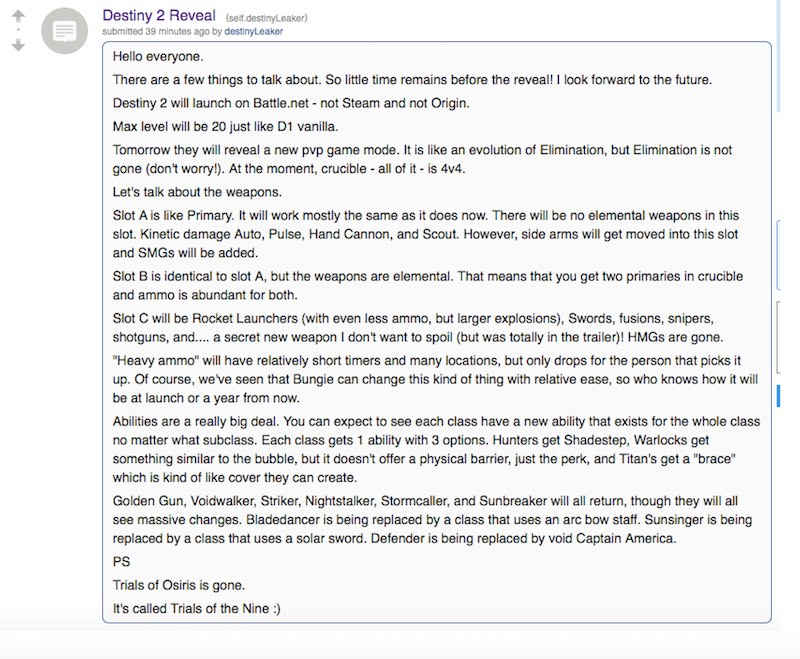 He also discussed about the abilities, and the class changes along with the names of Golden Gun, Voidwalker, Nightstalker, Stormcaller and Sunbreaker. According to him, Sunsinger will be replaced by a class who will be using a sword, Trials of Osiris is gone while the Defender is being replaced by void Captain America.
See also: Destiny 2 Trailer Released, Confirmed For PC
Since the game is still a couple of months away from its release, a number of speculations and rumors will be reported. Anyhow, there's no official confirmation of the above reported claims.
Destiny 2 gameplay reveal is a couple of moments away and more details are expected. Stay tuned for more updates!