Dead Rising 4 and Syberia 3 two of the anticipated games are all set for Steam release within a couple of weeks. However, the PC gamers should be aware of the fact that both the titles will be supported with Denuvo's anti-tamper technology, a program used by many game developers and publishers as a tool of protection against piracy.
Dead Rising 4 was released back in December for Xbox One and Windows 10 systems as a timed exclusive, in the result of a deal with Microsoft. However, the three month exclusivity period comes to an end, and the developers are preparing for digital release across the PC platform. The game's steam page was updated in a while and it shows incorporation of Denuvo DRM anti-tamper tech.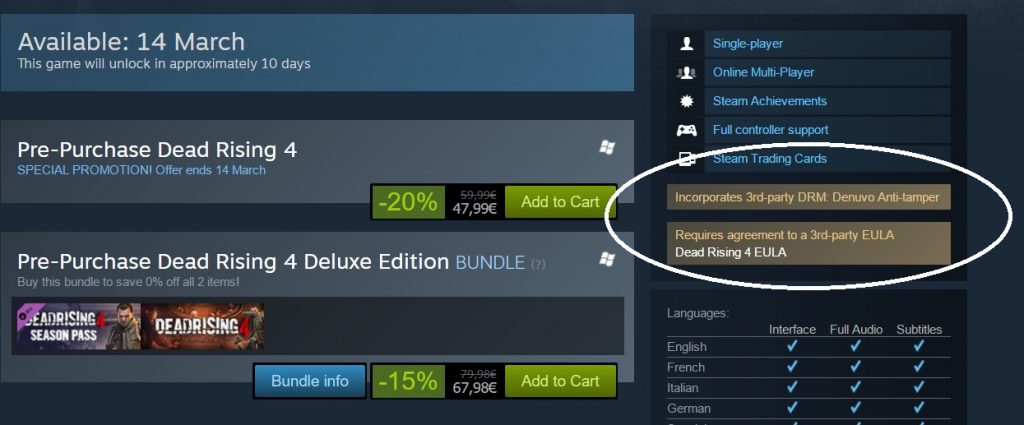 Similar kind of situation goes for Syberia 3. The upcoming adventure title is headed for release during mid of April and will be using Denuvo's DRM anti-tamper technology as a tool of protection against the PC pirates.

Piracy is one of the main issue developers face while working on a PC game and most the game developers use Denuvo's DRM solution. However, the tool is not effective since most of the famous titles have been bypassed and cracked by the hacking groups such as CPY. Capcom's recent horror-survival, the Resident Evil 7 was cracked within a week of its release.
See also: Dead Rising 4 Steam Date Confirmed, Pre-Purchase Discount Available
Some developers such as id Software and Crytek officially removed the DRM protection from their game when the title got cracked. But most of them still rely on this ant-tamper tool. Let's see how the release of both of these titles go in the upcoming weeks.
Dead Rising 4 is less than 2 weeks away from its Steam release. Stay tuned for more updates!