On the official CD Projekt Red Discord, the Community Manager, Alicja conformed the specifications of the system that ran the Cyberpunk 2077 demo shown at E3 2018.
You Might Like: Cyberpunk 2077 Is First-Person RPG – New Details and First Screenshots
Unfortunately, this +30 minute demo was only shown to the press behind closed doors, knowing that it was executed by means of an Intel Core i7-8700K processor with 6 cores and 12 processing threads at a Base / Turbo frequency of 3.50 / 4.70 GHz along with 32 GB RAM G.Skill Ripjawns @ 3000 MHz CL15, an Nvidia GeForce GTX 1080 Ti, a Samsung 960 Pro SSD with a capacity of 512 GB and Corsair SF600, 600W.
Unfortunately, Alicja didn't disclose the graphic details applied to the Cyberpunk 2077 demo, although it is rumored that it was running at a 4K @ 30 FPS resolution. Really the graphics requirement of this system is good news, since the visual aspect of the game promises to be a step above the rest of the titles, and a 'new Crysis' is always welcome that helps to push the limits of PC performance, although we can already imagine that Xbox One X will not be able to run this game at 4k resolution, where the built-in graphics throws a power of 6 TFLOPs against the 11 TFLOPs of the GeForce GTX 1080 Ti, so it will be normal to watch it at 1080p on consoles or with dynamic resolutions @ 30 FPS.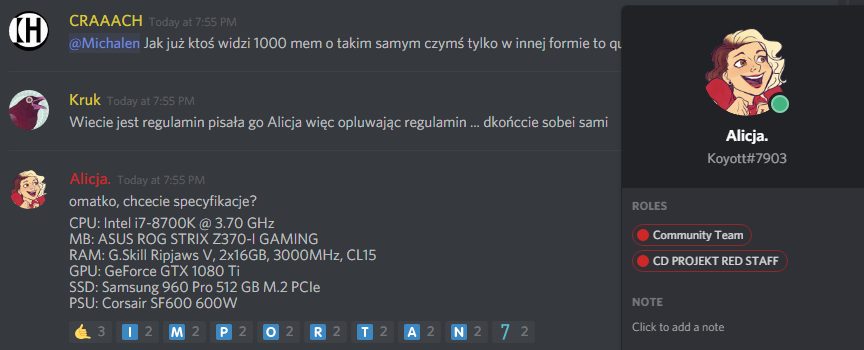 Cyberpunk 2077 is currently in development for PS4, Xbox One and PC. The game was announced back in 2012 and doesn't have a release date yet.