Cryorig today announced the launch of Frostbit, the first high-end cooling solution for SSD storage units in M.2 format.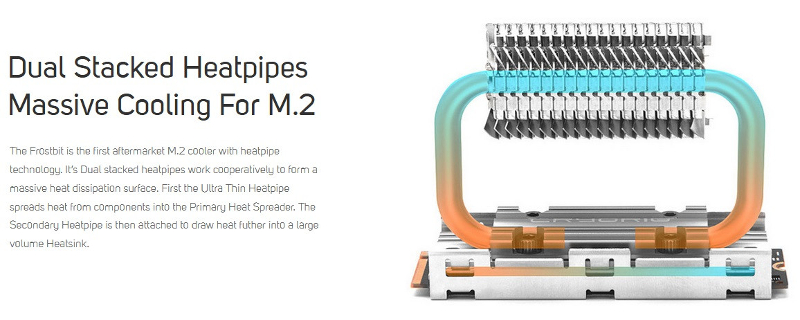 M.2 SSDs also really fast in terms of speed and they reach high temperatures to the point that it is quite normal to see them hovering between 70 and 80ºC. That is not a good thing to face its durability, and that is why Cryorig Frostbit makes entry into the market, which greatly reduce temperatures thanks to a generous aluminum heatsink traversed by an ultra-thin copper heatpipe of 1 mm thickness supported by a second copper heatpipe of 6 mm that goes through an aluminum radiator formed by 38 fins of aluminum.
The ultrathin heatpipe helps all the heat is transferred uniformly through the heatsink, while a thick copper heatpipe is responsible for transferring the heat generated in the heatsink to an aluminum radiator, which will significantly improve cooling taking advantage of the system air flow. With dimensions of 72 x 26.3 x 57 mmm and a weight of 56 grams, it is capable of dissipating a TDP of 12W. Its price was not announced.