AMD Ryzen 5 5600X has topped the list in PassMark's CPU Mark for single-core performance with 3495 points, thus surpassing the Intel Core i9-10900K, which until now held the first place with a score of 3,177 points. With such good score, we are referring to the fact that AMD's Zen3 CPU architecture improved Ryzen 5 5600x single-core performance by 23 percent in comparison with its predecessor, the AMD Ryzen 5 3600 XT, which boasts a score of 2,833 points.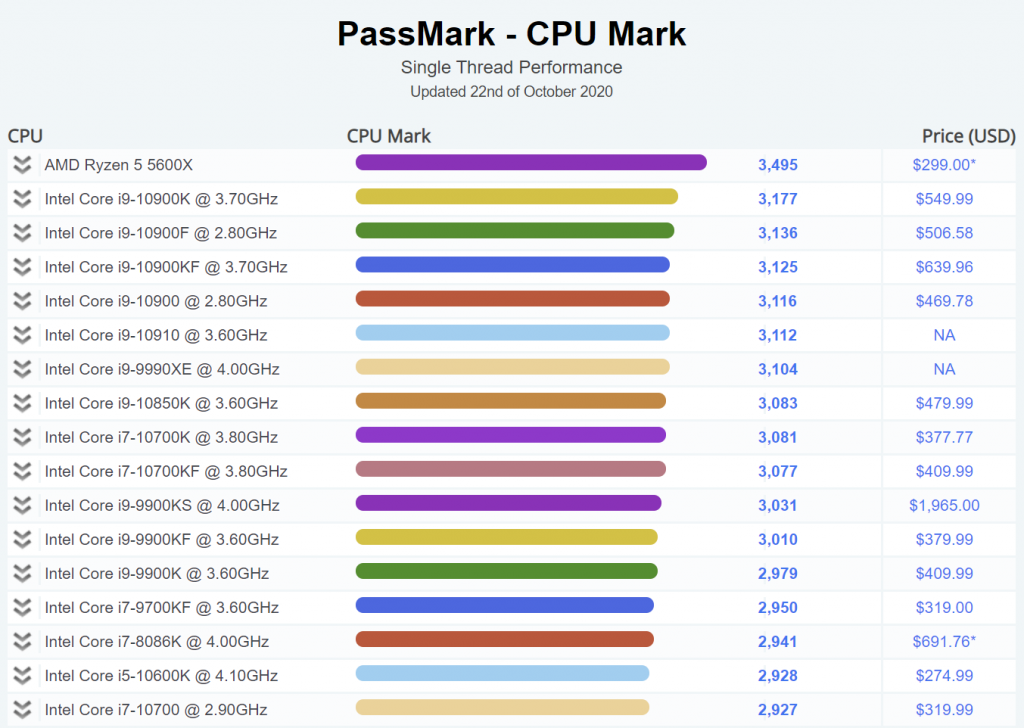 It should be remembered that the AMD Ryzen 5 5600X is for now the most basic CPU powered by the Zen3 microarchitecture announced by AMD, offering a configuration of 6 cores and 12 threads at a Base / Turbo frequency of 3.70 / 4.60 GHz with a TDP of 65W. If we take into account its configuration, its direct rival is the Intel Core i5-10600K, which gets a score of 2,928 points, so the AMD option is 19.3 percent more powerful , at least in CPU Mark Chart.
According to AMD benchmarks, it is 19% / 20% faster in single / multi-core tests than Core i5-10600K, while in gaming it promises to be 13% faster.
The Ryzen 5000 series will come to market on November 5th, 2020.
Model

Cores / Threads

Freq.




Base

Freq. Turbo

Cache (L2 + L3)

TDP

Price

AMD Ryzen 9 5950X

16/32

4.30 GHz

4.90 GHz

72 MB

105W

827 euros

AMD Ryzen 9 5900X

12/24

3.70 GHz

4.80 GHz

70 MB

105W

568 euros

AMD Ryzen 7 5800X

8/16

3.80 GHz

4.70 GHz

36 MB

105W

465 euros

AMD Ryzen 5 5600X

6/12

3.70 GHz

4.60 GHz

35 MB

65W

310 euros