Corsair announces a comprehensive compatibility plan for the new range of AMD Ryzen processors and the AM4 platform. Because of the new chipset, coupled with a completely redesigned CPU architecture and socket, the AMD Ryzen model requires the best PC hardware in terms of performance and Corsair already has a wide range of DDR4 memory, CPU coolers and power supplies Power supply.
CORSAIR Is Ready For AMD Ryzen – Comprehensive Compatibility with DDR4, CPU Coolers and PSUs
You Might Like: AMD Ryzen 5 CPUs will go on sale on April 11, Price and Specifications
"Corsair is in a prime position ahead of the launch of AMD Ryzen, with a range of high-performance DDR4 memory cards, power supplies and a CPU cooling system," said Travis Kirsch, director, manager AMD product and customer information. "Corsair offers those who are building their system everything they need to get the most from AMD Ryzen and the new AM4 platform."
AMD Ryzen CPUs require the latest technology in DDR4 memory and offer a wide range of models already accompanying the new architecture such as 16, 32 and 64GB Vengeance LPX kits at 2133 MHz and 2400 MHz and Dominator Platinum from 16 GB to 3000 MHz.
These new AMD processors dynamically adjust and optimize performance based on power and temperature: the lower the temperature, the higher the clock speed and the better the results. To improve this feature, the brand features a Hydro Series CPU liquid cooler that significantly lowers temperatures, compared to an air-cooled system. In this way, you can increase clock speed, improve performance and simplify Overclocking.
The Hydro Series H60, H110i and H100i already include compatibility with the AM4 socket, while the rest of the Hydro Series range has also been adapted, thanks to an additional mounting bracket. Corsair offers (for a limited time), AM4 support for all Hydro Series owners who meet the requirements of the Ryzen support microsite, where you can also see information about the whole line.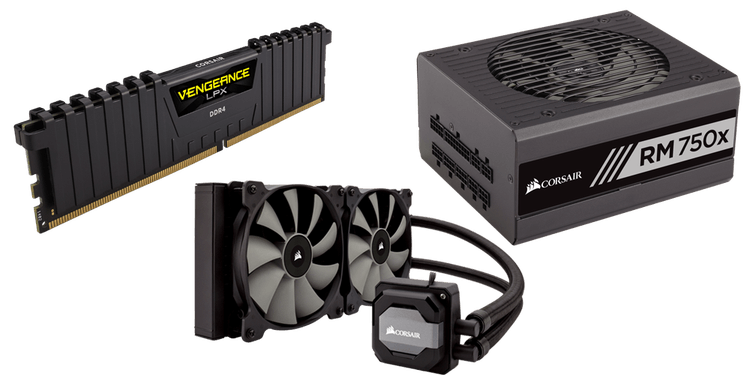 On the side of the power supplies, the 80-PLUS Titanium AX1500i, RMx 80-PLUS GOLD or CX 80-PLUS Bronze series are ideal for Complete the system.
"We are excited about AMD Ryzen CPU power supplies and the new AMD platform," said Aaron Neal, senior manager of DIY Product Marketing at CORSAIR. "Thanks to their great compatibility with our entire range of DDR4, Hydro refrigerators and power supplies, the most enthusiastic can be sure that CORSAIR has everything they need to design the perfect Ryzen system."