This year, visitors of the event had an opportunity to get acquainted with the promising products of the famous Premium cooling components company "Noctua".
Noctua has high hopes for the successor of the CPU-cooler NH-U12S, equipped with high-tech NF-A12x25 fans in the configuration of "push-pull" (blowing-blowing). The heatsink features seven heat pipes, and the estimated area of ​​the radiator has grown by 37% in comparison with its predecessor.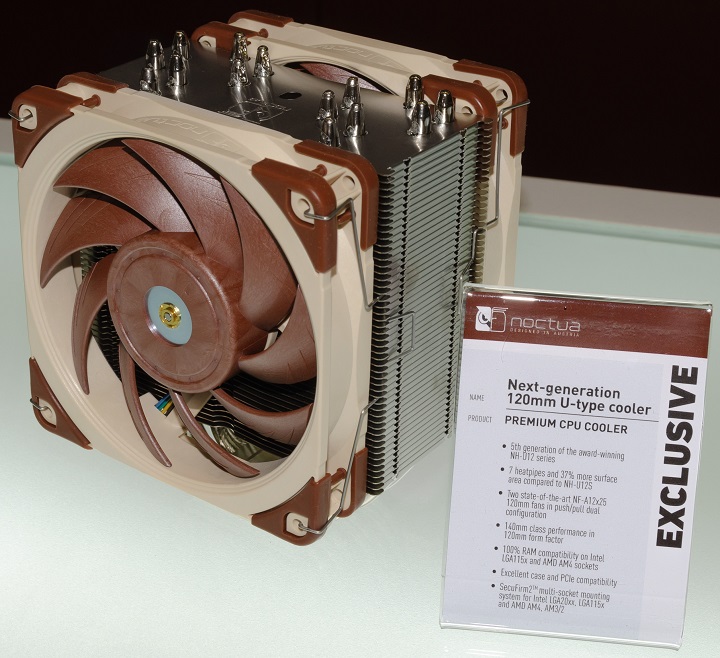 To demonstrate the effectiveness of the new NH-U12, Austrian engineers installed it on a 220-watt heating element, placing near to it the long-familiar NH-D15, which removes heat from a heater of similar power.
Despite the more restrained dimensions, the fifth-generation of NH-U12, which is being prepared for release, proved to be no worse than the super-cooler that many enthusiasts liked. The new NH-U12 is expected to be on sale before the end of this year.
At the Noctua stand, prototypes of radiators for future coolers were also present, designed to replace the available solutions in the market. In particular, the successors of NH-D15 and NH-U14S, which received seven heat pipes instead of six were shown, as well as a new version of the NH-C14S with a smaller heatsink height (110 mm vs. 115 mm).
Fans of small form factor systems will certainly be interested in new generation of NH-L9x65. In terms of design, it differs little from the long-familiar model, but at the same time, as the manufacturer notes, it has more efficiency.
The cooler delivery kit will include the NF-A9x14 PWM fan and it will also feature Intel kit attributes the dimensions of the Intel's socket (95 x 95 mm), so it does not prevent the installation of RAM modules and graphics cards on most motherboards for platforms from both Intel and from AMD.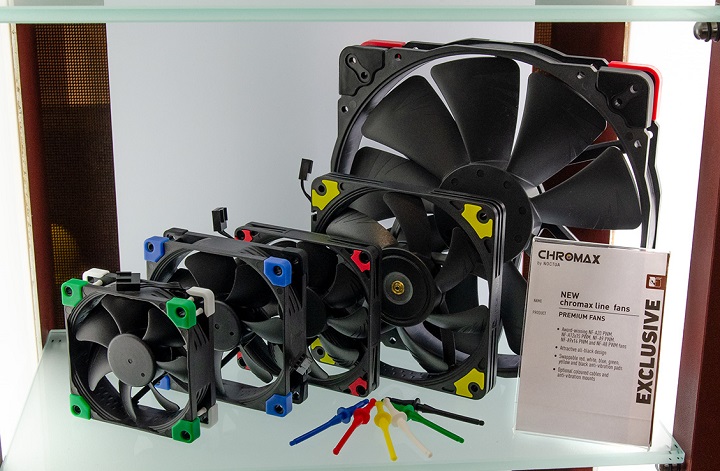 The Austrian company Noctua, although does not follow the fashion trends of RGB lightning even on power cables, but continues to develop a line of colorful fans and accessories under Chromax brand, abandoning the traditional beige and brown hues.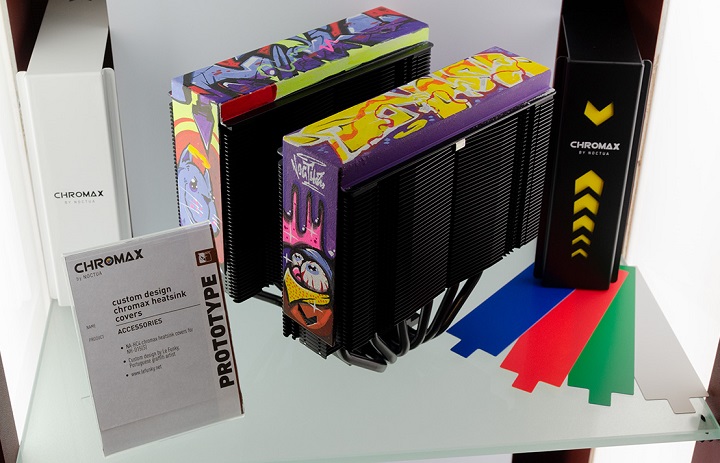 In addition, Noctua also includes completely black versions of NH-D15, NH-U12S and NH-L9i coolers.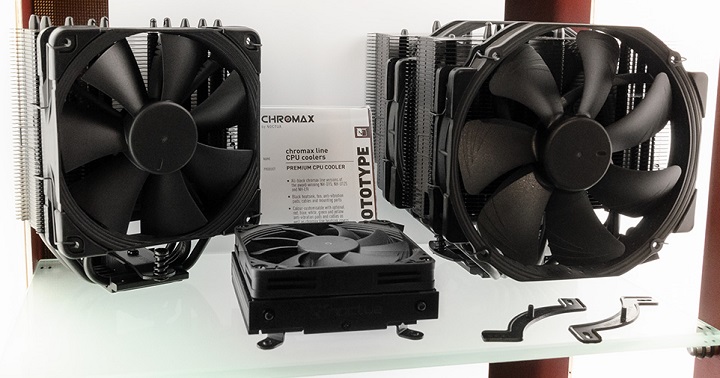 Especially for PC enthusiasts with a limited budget Noctua prepared a new version of the heatsink cooler NH-U12S, received the mark Redux. This version of the cooler is equipped with a fan NF-P12 Redux and expected to be significantly cheaper than the already familiar model. The exact value of the cooler is unfortunately not yet disclosed.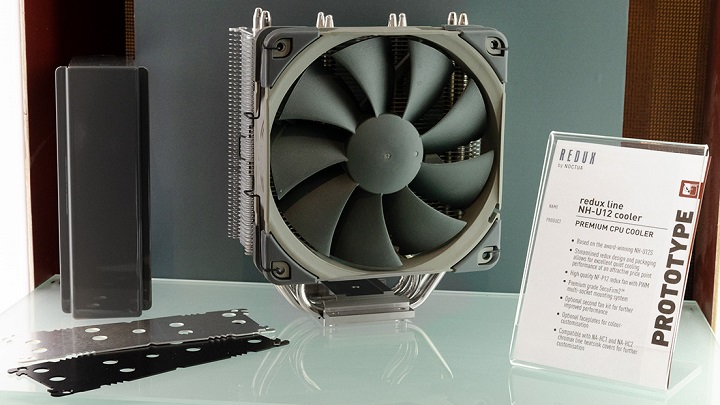 In conclusion of our brief overview of Noctua innovations at Computex 2018, we noted that Austrians company is in search of new applications for their products. For example, the NF-A12x25 using a special printed adapter on a 3D printer, suggested to be used as a desktop fan. The fan provides a highly directional airflow and powered by a USB port.