Judy A. Juracek, a graphic designer, sued Capcom yesterday for stealing numerous images used to develop several of its video games. All these textures are registered in a digital book called Surfaces, which was published in 1996, and accessed by Capcom to save resources in the development of games such as Resident Evil 4, since even the logo of this game was created taking advantage of the designer's protected resources.

According to the designer, out of the 1,200 photos, she has found at least 80 of them in various company games, which includes the aforementioned Resident Evil 4, in addition to other games such as Devil May Cry.
While the book is intended to be used as "visual research" by artists, architects, and designers, Judy states that she requires users to license her images for commercial use by contacting her directly, and unsurprisingly, Capcom never contacted her to ask for a license.
According to the lawsuit, Judy is seeking financial compensation of $ 12 million for copyright infringement, in addition to seeking damages for "false copyright management and removal of such management" involving the payment of between $ 2,500 and $ 25,000 for each of the 80 photographs used.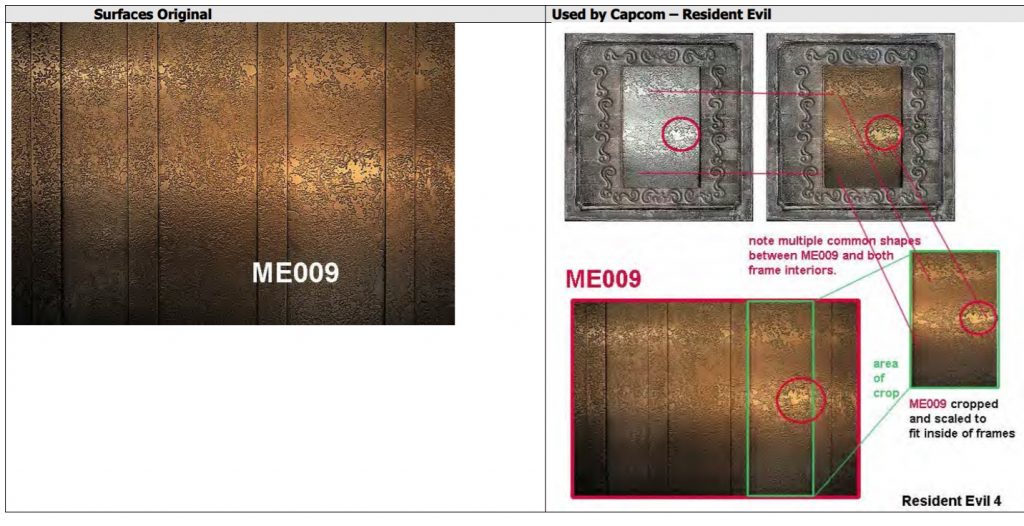 For now it seems that she will win the trial or she will reach a juicy agreement, because there are almost 150 pages of documentation that confirm that Capcom used images to profit from them. Even the broken glass of the Resident Evil 4 logo was removed from their images.
"It's hard to imagine Judy taking a photo of broken glass in Italy and the mansion's interior door design and Capcom artists reproducing the exact same pattern of broken glass in a logo and interior design without benefiting from the photographs of Judy, "collects the lawsuit.
It also doesn't help that Capcom's breach with leaked data revealed that the files even contained the same name as the files in the book on its CD-ROM version.
"The file names of at least one of the images in Capcom's pirated files are the same as those used on the [Surfaces] CD-ROM," he alleged. "The lawsuit shows a metallic texture labeled 'ME009' on Judy's CD-ROM, and it's labeled the same on Capcom folders."
Capcom didn't comment on the lawsuit.