Calyos NSG S0 is now available for pre-orders. The early-bird price will be just 479 Euros – I say 'just' 479 Euros, as we were actually told the final price could be up to 600 Euros, so Calyos have done a good job bringing the price down a bit after Kickstarter campaign.
Calyos NSG S0: Aluminum chassis with Passive Cooling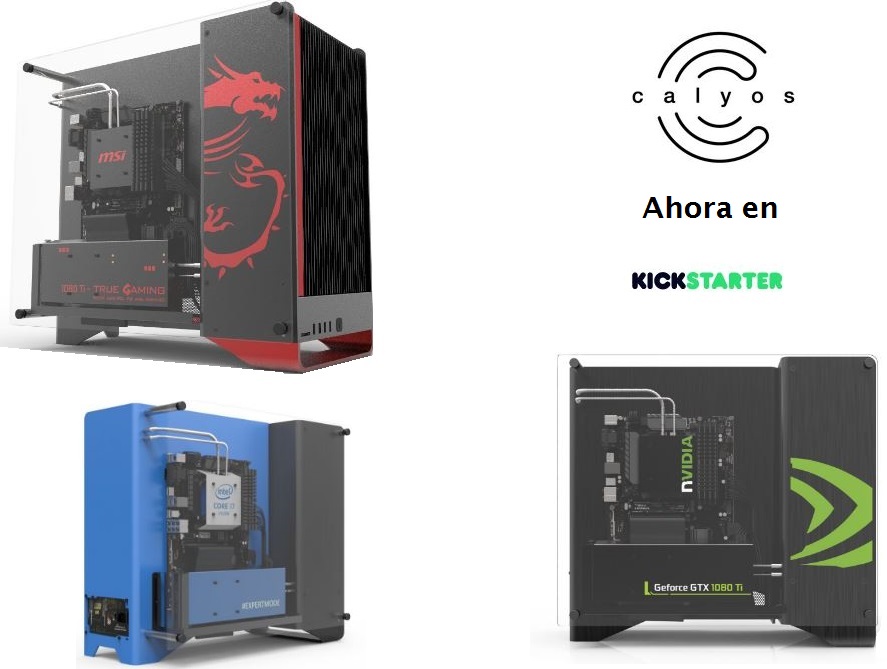 This chassis uses the advanced Loop Heat Pipe (LHP) technology to give life to a passive cooling system in two phases without moving parts where a block for the CPU and another block for the GPU are attached to its own Giant radiator of aluminum that conforms the own design of the box with an aluminum case of 4 mm of thickness and a window of tempered glass. This union takes place through copper tubes where the R-245fa refrigerant, known as Pentafluoropropane, flowing through the loop. Thanks to the convection, from liquid to gas, which cools, condenses and returns to the circuit.
This allows to have a completely silent cooling system without any movable part in all their design greatly extending its useful life and reducing practically 0 to the breakdowns.
According to the company, this equipment can cool an Intel Core i7-7700K along with a GeForce GTX 1080 Ti, better than using traditional cooling systems, but they have not revealed any details on temperature. In the past, they announced that a Core i7-5820K reached a temperature of 73 ° C against the 85 ° C it reached with the Scythe Big Shuriken, while the GeForce GTX TITAN X operated 2 ° C cooler than the reference cooling system.
In addition, the Calyos NSG S0 includes several enclosures to include up to 3x 2.5 "SSDs and 3x 3.5" HDDs / SSDs, which can also be used to add 120mm fans, improving dissipation over high-end AIO liquid those who want to overclock. If you want to get one of these high performance PC you can get them here. Depending on what you pay, you can access Premium models, with your own design, RGB lighting, etc.