Last week, Activision finally announced the rumored Call of Duty: WWII with full reveal set for April 26th. However, more details related to the title have been emerging lately.
Soon after the announcement, we saw three images leaked by the studio within Activision and also we covered the news of game having co-op mode and early access to the PS4 owners. It appears that the Activision's marketing campaign couldn't hold the release date of the game and as the result, the game's ad published in Paris revealed the release date.
The ad confirms November 3rd as the release date set for Call of Duty: WWII. Here's a picture shared by Maxime Chao on Twitter;
Call of Duty WW2 : le 3 novembre 2017.#SaintLazare pic.twitter.com/Pw9uLgGNT4

— Maxime Chao (@MaximeChao) April 24, 2017
November 3rd sounds true as the it is Friday, the day of new Call of Duty game for past two years. Apart from that, the game's marketing campaign has also been launched in Australia and people have gathered some sort of images from the material, leaking more details of the game.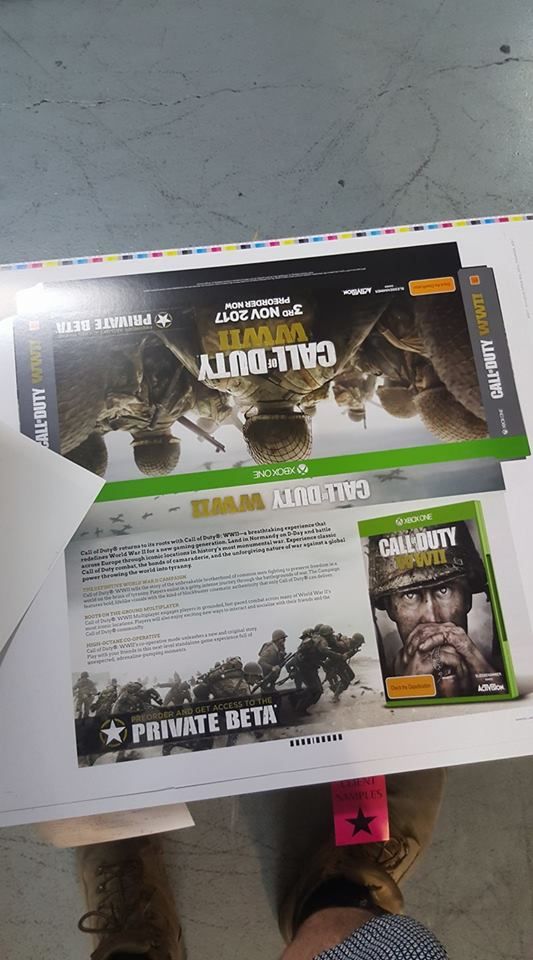 The pictures were covered by famous news website Charlieintel who looked upon the game's story, co-op mode, beta and much more. According to the leak, the game will have Normandy on D-Day and the battle will take place in the most iconic places throughout the Europe.
Experience classic Call of Duty combat, the bonds of camaraderie, and the unforgiving nature of war against a global power throwing the world into tyranny.
See also: Call of Duty: WWII to Feature Timed Exclusive Maps, Early Access for PS4
It also covered the word around game's singleplayer mode, which will have a story of 'unbreakable brotherhood' of soldiers fighting for the freedom. It will have lifelike visuals to deliver a blockbuster cinematic authenticity. There will be a new co-op mode with a new story so that the players can have new experiences in this 'next level standalone game'. While the multiplayer mode will give exciting new ways to interact and socialize with their friends and the Call of Duty community.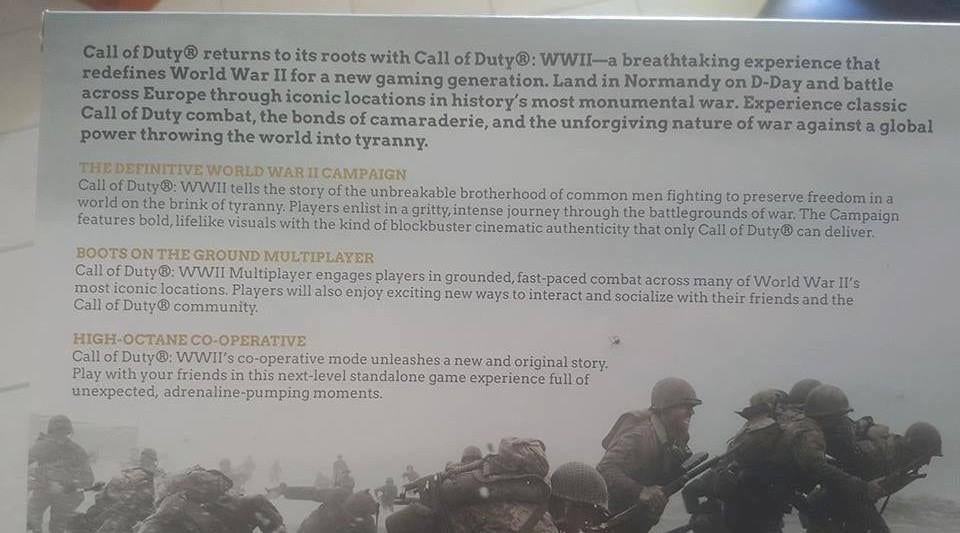 Call of Duty: WWII is under development by Sledgehammer Games and is planned for release on November 3rd for PC, PS4 and Xbox One. The game will have "Private Beta" accessible by those who pre-order the game. Stay tuned for more updates!