Activision and Infinity Ward announced the launch of Call of Duty: Warzone, the new cross-platform and free-to-play with its standalone battle royale. The game is now available to download on PlayStation 4, Xbox One and PC via Battle.net.
Call of Duty: Warzone is a completely new experience from the world of Call of Duty: Modern Warfare, where up to 150 players can meet friends and fall into a huge online battlefield full of non-stop action and endless fun. On launch, players will join and fight as a trio in two epic modes, which include a new version of the popular Battle Royale survival mode with new and innovative ways to play, and a completely new original mode called Plunder, where teams fight to Collect the most Cash in the game.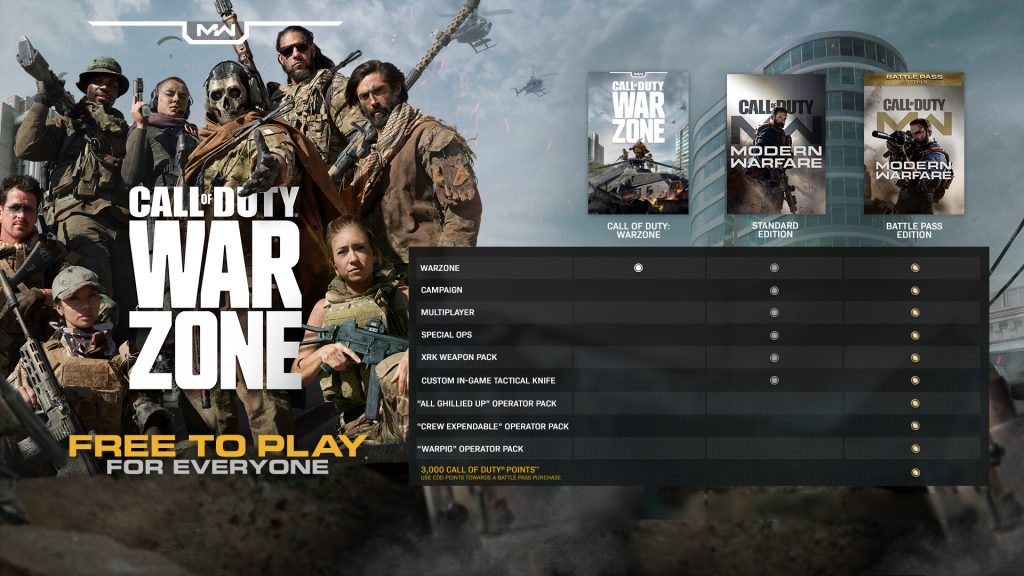 Explore the immense city of Verdansk and, with two game modes, arm yourself and enter a large-scale map to find rewards and fight to get to the top in this free experience for everyone.
Team up with your friends and dive into a massive battlefield of Call of Duty: Modern Warfare in a fight for total survival. Players can earn rewards by finding loot, removing enemies or completing Contracts located around the map.
A New Form of the 'Battle Royale'
In Warzone Battle Royale mode, dive into the huge world of Verdansk with 150 players in teams of three to loot and fight to be the last squad standing in a colossal shooting.
In this redefined Battle Royale, players of all levels and game styles will find new ways to play and be rewarded in the survival game mode.
Players can collect Cash in the game to buy equipment, Field Improvements, Low Streaks or Resurrection tokens for teammates fallen at the Purchase Stations located throughout the map to help change the course of the war.
Players may choose to take on Contracts, optional mini-missions in the game located throughout the map that pay epic rewards upon completion, including rare loot, Cash, XP and XP weapons to help squadrons gain the advantage over the competition .
If you are eliminated in a game, it does not mean that you are out of combat. In Warzone Battle Royale, there are different ways players can return to the fight:
The Gulag is a completely new way to win a second chance of survival in Battle Royale. Once eliminated, the players will be taken to the Gulag to face another player fallen in a 1-on-1 shooting, the winner takes everything, to have the opportunity to redeploy in the game.
In addition, players can win enough Cash in the game to buy a Self-Resuscitation Kit in order to heal themselves after being knocked down by an opponent.
Players can also bring back the eliminated teammates by earning enough Cash in the game to buy the deployment of the fallen squad members at the Purchase Stations spread all over the map.
Call of Duty: Warzone System Requirements

Minimum
Recommended
Competitive
Ultra
Experience
The Minimum Specs needed to play Warzone
The Recommended Specs to run at 60 FPS in most situations with all options set to medium
The Competitive Specs to run at a high FPS for use with a high refresh monitor
The Ultra Specs to run the game at high FPS in 4K resolution
GPU
GeForce GTX 670 or 1650
GeForce GTX 970 or 1660
GeForce RTX 2070 SUPER
GeForce RTX 2080 SUPER
CPU
Intel Core i3-4340 or AMD FX-6300
Intel Core i5-2500K or AMD Ryzen R5 1600X
Intel i7-8700K or AMD Ryzen 1800X
Intel i7-9700K or AMD Ryzen 2700X
RAM
8GB
12GB
16GB
16GB
HDD
175GB HD space
175GB HD space
175GB HD space
175GB HD space
Network
Broadband
Broadband
Broadband
Broadband
Sound
DirectX-Compatible
DirectX-Compatible
DirectX-Compatible
DirectX-Compatible
OS
Win 10 64-Bit
Win 10 64-Bit
Win 10 64-Bit
Win 10 64-Bit