Call of Duty: Black Ops Cold War has launched, and it's getting some very solid reviews from critics everywhere. Critics have praised its campaign mode, its multiplayer variety, and its refreshing Zombies gameplay, among other aspects. If you've just picked up Call of Duty: Black Ops Cold War – whether it's your first CoD game or not – you might be feeling a bit overwhelmed. Where do Warzone and Modern Warfare fit into this new game? Can you carry over progress? What does Black Ops Cold War bring to the table? Fear not – we're here to help. Here's everything you need to know about Black Ops Cold War and its first season of DLC and battle pass content.
There's lots of new stuff
First and foremost, Black Ops Cold War Season 1 brings with it plenty of new content. There are new maps in the multiplayer mode to enjoy, as well as new weapons, extra operators, and new stuff for Zombies as well. If you're new to Black Ops Cold War, you might want to consider purchasing the Battle Pass. This pass comes with 100 tiers, and each one will give you a new piece of content when you reach it. Simply buying the Battle Pass for Season 1 also gives you an operator, two new weapons, some new Wartracks mixtapes, and extra COD Points to spend in the shop. All in all, if you think you're going to be playing Black Ops Cold War a lot, it's almost certainly worth your while purchasing the Battle Pass.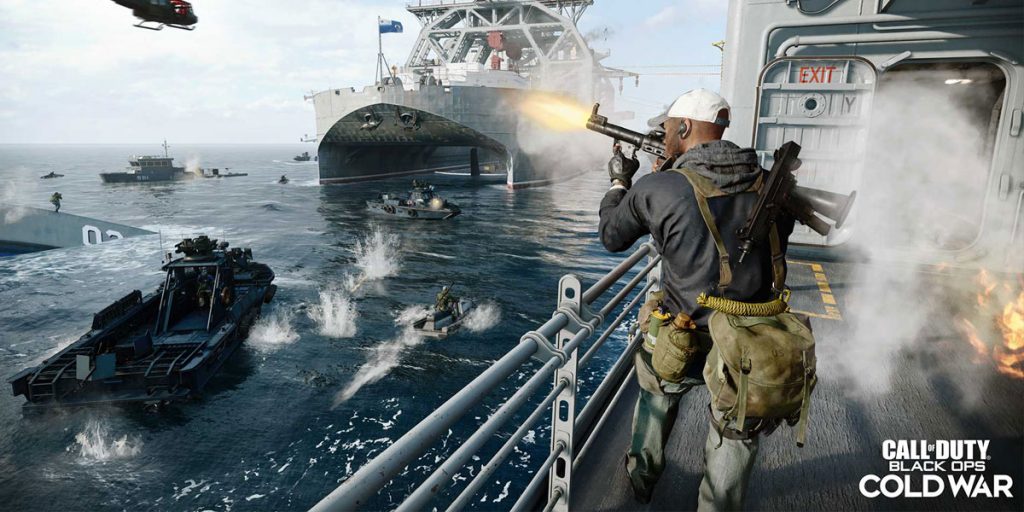 COD Points are crucial
COD Points – or Call of Duty Points – are an incredibly important resource during your time with Call of Duty: Black Ops Cold War. Using COD Points, you can purchase new stuff not only in Black Ops Cold War, but also in Warzone and Modern Warfare, since progress is synchronized between these three titles. If you're smart, you can find ways to gain free COD Points to buy more content. Spending money is always an option if you want to get COD Points, of course, but if you can get them for free, why not try? If you bought the Battle Pass, you can use COD Points to bypass tier unlock requirements and instantly unlock both the tier and the content that comes with it. That's why you should always have a stash of COD Points on hand.
Everything is synchronised with other games
Have you poured hundreds of hours into Call of Duty: Modern Warfare and the battle royale component Warzone? Do you not want to see your hard-earned rewards disappear? Well, don't worry. Call of Duty: Black Ops Cold War supports synchronizing content and unlocks between games, so everything you get in Modern Warfare or Warzone – with certain restrictions – can also be used in Black Ops Cold War. This also means you can switch at will between any of the three games and still be making meaningful progress in the others. If you're not feeling the setting of Cold War and want to switch to something more modern, then you can play Modern Warfare with no worries. You can also use Black Ops Cold War weapons in Warzone!
Warzone has lots of new stuff
The first content season for Call of Duty: Black Ops Cold War has lots of new additions for Warzone as well. There's an entirely new map in Warzone titled Rebirth Island. Unlike Verdansk, the Rebirth Island map is designed to host smaller, more focused engagements, so it supports up to 40 players. In addition to the new Rebirth Island map, there is, of course, a new gulag, so you'll have to learn its layout if you want to be able to battle players for the chance to respawn. Season 1 also adds the Resurgence mode to Warzone, which removes the Gulag and places a spawn timer on players instead. Add to this the new attack helicopter vehicle and all the other things Season 1 is bringing, and you've still got plenty of reasons to dive into Warzone.
There are more seasons to come
If you're not taken with everything that's coming in Black Ops Cold War Season 1, you'll be pleased to know it won't be the last. There were six content seasons for Modern Warfare, and some think more could be on the way. Regardless of whether Modern Warfare is getting more content, Black Ops Cold War certainly will. Over the next year, more weapons, operators, maps, and modes will be added to the game. This means you're bound to find something you love in future seasons, even if you're not keen on what you've got in this season. You can find a full list of everything that's new this season right here if you're concerned you've missed anything!
This has been our guide on everything you need to know about Call of Duty: Black Ops Cold War Season 1. Have we missed anything? What do you want to see from future seasons in the game? Let us know!