After several rumors that were circulating between yesterday and today by various insiders about a possible delay, Electronics Arts and DICE today announced that the next installment of the Battlefield series "Battlefield 2042" will effectively be delayed to November 19. Its previous release date was for October 22.
Following the numerous bugs that were noted during the technical alpha, the developers decided to delay both the final game and the open beta, the date of which will be announced closer to launch.
"We have made the decision to change the release of Battlefield 2042. The game will now be released worldwide on November 19, 2021.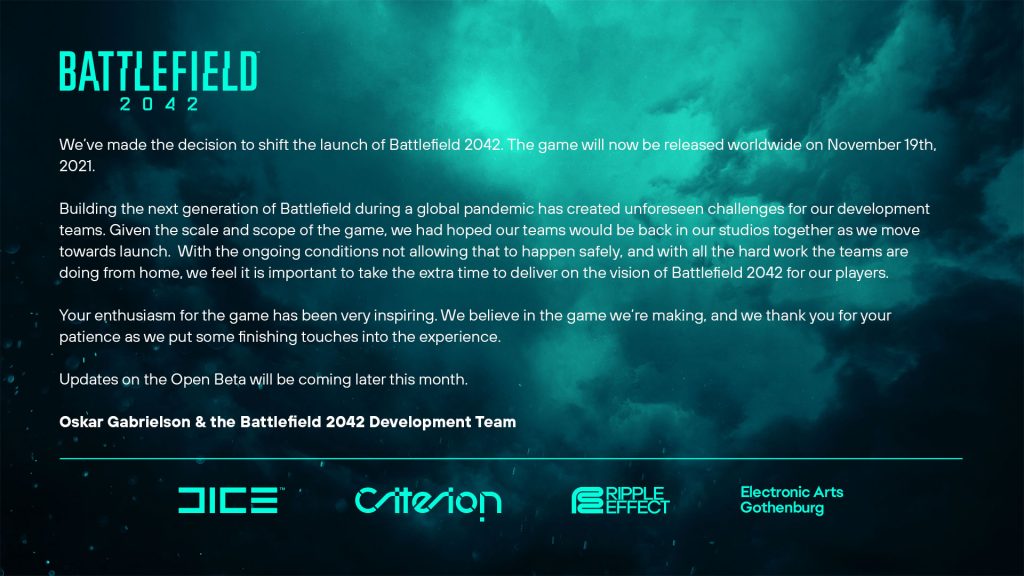 You Might Like: Nvidia RTX technology coming to Battlefield 2042, Dying Light 2 and 11 more games
Battlefield 2042 is an innovative first-person shooter that will revolutionize the modern sandbox multiplayer genre. Powered by cutting-edge technology that exploits the capabilities of next-gen hardware, the title takes players into an All-out Warfare experience in the near future that includes the franchise's hallmark, game-changing destruction. With games with up to 128 users on the new consoles and PC, this unprecedented scale adds a new dimension to multiplayer battles. Battlefield 2042 also enhances the action with the inclusion of real-time events that modify the battlefield and tactical combat. All new weapons, vehicles and gadgets give fans the freedom to be strategic, creating amazing and unique moments in Battlefield.
In Battlefield 2042, the world is on the brink. Shortages of food, energy and clean water have created dozens of failed nations, creating the largest refugee crisis in human history. Among these Despatriado, or Despat, are families, farmers, engineers – and even soldiers. In the midst of this crisis, the United States and Russia are dragging the world into war. The Despat specialists join both sides, fighting not for a flag, but for their future in this new world.
Battlefield 2042 Minimum System Requirements:
OS

 : Windows 10 64-bit

Processor

 : Intel Core i5 6600K | AMD FX 8350

Memory

 : 8GB RAM

Graphics

 : NVIDIA GeForce GTX 1050 Ti | AMD Radeon RX 560

VRAM

 : 4GB

DirectX

 : 12
Battlefield 2042 Recommended System Requirements:
OS

 : Windows 10 64-bit

Processor

 : Intel Core i7 4790 | AMD Ryzen 5 3600

Memory

 : 16GB RAM

Graphics

 : NVIDIA GeForce RTX 2060 | AMD Radeon RX 5600 XT

VRAM

 : 8GB

DirectX

 : 12