It seems that EA DICE is currently working on a new Battlefield 1 edition pack that will serve as a complete package for the popular shooting title.
As per the new leak from Amazon France, the developers are going to release Battlefield 1 Revolution Edition next month across all the platforms that will include the base game along with a premium pass, having all the DLC packs confirmed for the shooter. The Revolution Edition is slated for August 22 and will be having all the major expansion packs, including the forthcoming 'In The Name Of The Tsar'.
EA is yet to confirm the reported new edition for the game but we know that previous Battlefield games have also got a complete edition some time later after its launch and the release date matches EA's press conference date for Gamescom 2017, so there is a probably that EA might announce the edition a couple of weeks later or even during their press conference.
See also: Battlefield 1 'In The Name Of Tsar' DLC Map Gameplay Footage Revealed
The details appears to be missing from the Amazon France link at the moment but we have the screenshot right below;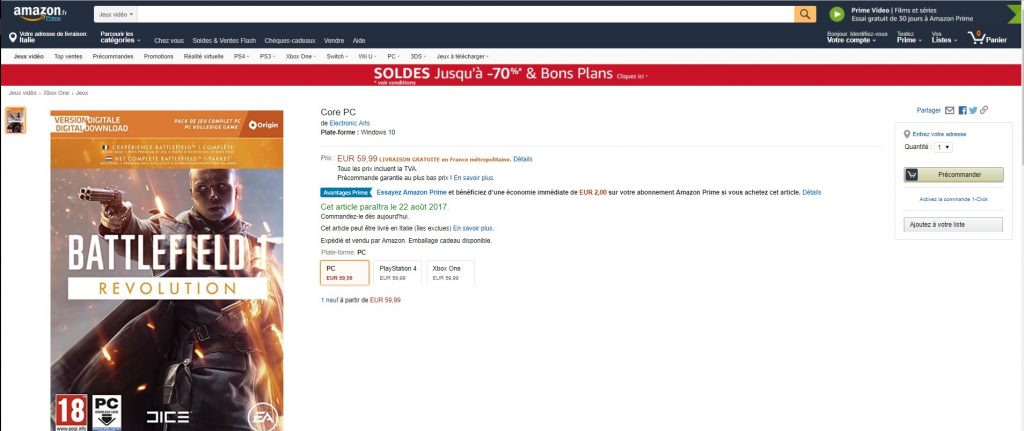 We'll get to know about the new edition a couple of days later when EA confirms or deny this report but right now, it is confirmed that a new expansion pack is under works and it will be launched in September, adding new weapons, maps, armor and much more for all the platforms.
Battlefield 1 is now available for PC, PS4 and Xbox One. Stay tuned for more updates!