A few days ago, it was reported that Battlefield V has been delayed by a period of almost one month, which may have disappointed some players but there's a good news for the fans that DICE is offering Battlefield 1 Premium Pass for free across all the platforms.
The free offer started today, September 11th, and will be ending on Tuesday, September 18th. Previously, the developer has offered a number of expansion packs for the game for free for promoting their upcoming shooter Battlefield V and this premium pass contains everything released for the game, including 16 maps, up to 20 weapons, 14 dog tags, and new game modes & operations.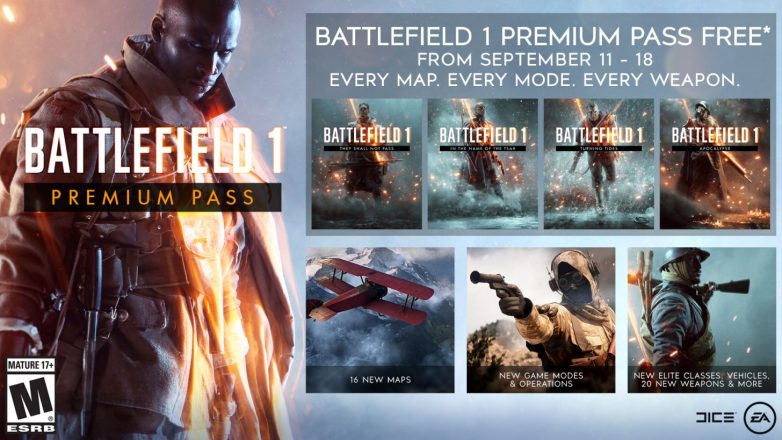 Since it is not a standalone content, the players will need to have the base game on their store library to claim the premium pass. Usually, the pass was priced around $49.99 and included the following expansion packs; Apocalypse, In the Name of the Tsar, They Shall Not Pass and Turning Tides.
One thing must be noted that the offer will go live in different time zones accordingly so before claiming the Battlefield 1 Premium Pass for free, make sure you don't see any price written on the cart. Simply head over to the digital library and tap on "Extra content" from the game's menu and then you'll be able to get the pass.
See also: Battlefield V New Trailer Shows Battle Royale Mode 'Firestorm'
Battlefield V open beta was available last week and is scheduled to end today, September 11th across all the platforms whereas the game is planned for release on November 20th. Stay tuned for more updates!