Through Battlefield Twitter, DICE published a new piece of art from Battlefield 1, corresponding to the next DLC in which you can play with the French army. The image, which presents an artistic style similar to that of the Metro saga, is complemented by the caption "Soyez prêts", which means "Be prepared". The image shows an intense shooting in a bunker which seems to be the Fort Douaumont with French flags hanging from the walls, and you can appreciate the Light Machine Gun Chauchat that was classic of the French Army during World War I.
Battlefield 1 – New French Army DLC Conceptual Art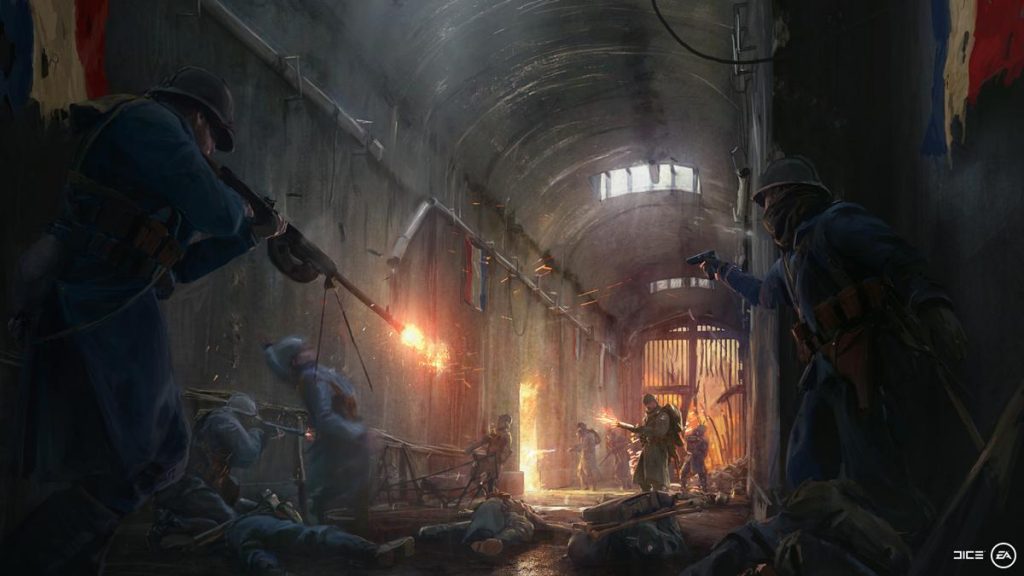 The official website of Battlefield 1  says the new DLC will introduce two new armies, including the French and the Russian Empire, and as previously announced, this will be included in the expansion. The New "They Shall Not Pass" DLC will be launched in March 2017. This DLC Can be purchased separately and it is estimated that its price will be US $ 14.99, and with Premium Pass, it will cost you about US $ 49.99 (contains all the DLC to be launched).
Battlefield 1 Premium Pass Key Features:

New frontline battles. Scout ahead with a two-week head start on four themed expansion packs. And France joins the fight in all new multiplayer maps. An upcoming expansion will bring the Russian Empire into the battle.

Priority server access. Skip the line for multiplayer matches with VIP access to server queues, exclusively for Premium Pass holders.

All the Premium extras. Get ready for new Operations and game modes, new Elite classes, weapons, vehicles and more. The Battlefield™ 1 Premium Pass includes 16 new multiplayer maps, 20 new weapons, 14 unique dog tags and 14 Battlefield™ 1 Superior Battlepacks with increased odds of dropping extra rare weapon skins. Each Battlepack is delivered monthly, starting November 2016.