Playing video games is a challenging task. You don't have to stick to a single porn pc game to justify your quality time with video games. Most new games are designed for a mature audience in terms of gameplay, story, and overall aesthetics. Yet, we have rare opportunities to play video games to enjoy them. Still, you can fully enjoy video games as an adult and don't make sacrifices in your regular life. The tips in a shortlist: 
Prepare your games beforehand; 

Choose the right time; 

Choose the right game; 

Try to mix video games with social interactions;

Try media trades. 
Make Preparations Beforehand 
Modern games receive updates often, especially online ones. You don't want to waste your hour of free time downloading 8 GBs of patches. Instead, choose a minute during your regular activities and set games that you want to play on updates. Besides, charge the gamepads and update necessary software. It won't take long in terms of regular affairs but will save tons of your game time. Check for updates regularly and you will be always ready for a fulfilling game session.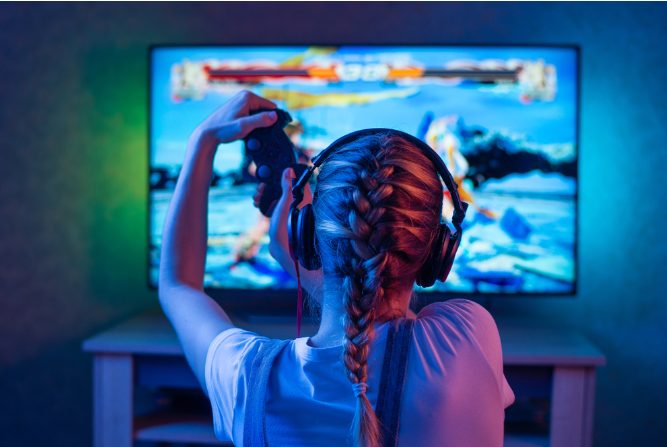 Choose the Time When You can Play 
It is hard to play from time to time with everyday affairs and job tasks. Playing games in between things that needed to be done may be an exhausting and unpleasant experience. Choose a time that you can dedicate only to yourself and treat yourself with some quality video games. When you know that you won't be disturbed and all tasks are completed, then you'll enjoy your gaming session fully. 
Choose a Game Carefully 
Choosing the right game for your gaming session may be treated as art. With the overwhelming variety of options, it is easy to pick something boring or tiresome. If you want to compete and relieve the stress in battles with other players, session FPS games are your choice. For example, Call of Duty or Fortnite may be good options. If you want to relax and enjoy qualitative stories, "walking-simulator" games will work well. "Vanishing of Ethan Carter" and "What remains of Edith Finch" are nice stories that will help you relax and enjoy peaceful scenery and music. Try to be selective, don't jump into time-consuming games, and stick to the ones that may end quickly in one way or another. 
Try to Incorporate Video Games in Other Aspects of Your Life 
Video games may not be a solely individual experience. You may mix your night with friends or "going out" with your significant other with a video game session. Fighting and sports games are a perfect choice for a party. There are plenty of options for casual and advanced players in these genres. 
Besides, there are plenty of choices of cooperative games, even with the romance fleur, to share with your partner. You don't have to substitute your romance for your video games passion, but occasionally mixing them would be a nice compromise. 
Try Media Trade 
We stick to our media habits pretty strongly. Favorite series, a movie night, or a book are our companions. One can hardly find some more free time for video games. However, it is always nice to shake up things from time to time. Try different genres and different formats of media. Thus, video games may be a nice alternative for a movie or a series. Video games usually fall into the same genres and mixes of them. There's even a niche of "interactive movie" type of games that are extremely cinematic and allow you to choose the further course of the story.