Think about two or three years ago, the high-end processors on the market were only 4-6 cores, and 8 cores can not be said to be popular until now, but PC players now have more options and playability. The problem is now to what extent can your multi-core processor develop in the future?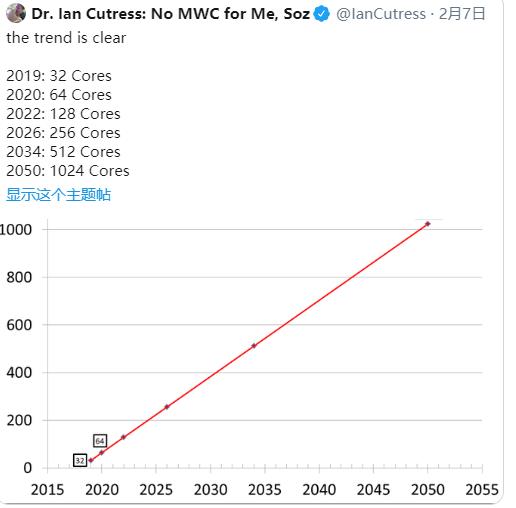 Dr. Ian Cutress, senior editor of the Anandtech website made a prediction about the number of cores a CPU will have in the future. According to his vision, there will be 128-core CPUs in 2022, 256-core processors in 2026, 512-core CPUs in 2034 and in 2050 we would processors with 1024-cores.
According to TSMC official data, compared to 7nm (first-generation DUV), the new 5nm chip using Cortex A72 core can provide 1.8 times the logic density, increase speed by 15%, or reduce power consumption by 30%. SRAM of the same process is also very good with reduced area.
1.8 times the transistor density means that it is very possible to manufacture 128 core 256 thread processors on a 5nm process. Anyway, AMD has now designed and manufactured the CPU core and IO core separately. The difficulty of ultra-multi-core processors has been already greatly reduced. 
In December last year, AMD CTO, Mark Papermaster, said in an interview that, in his opinion, there is no limit to the number of cores that you can add in a processor, although he also acknowledged that by increasing the number of cores they must be careful to avoid wasting resources, to which is added that the software must also be prepared to use them.
In short, the future number of processor cores exceeding 128 cores and 256 cores is technically achievable, but the biggest challenge for this type of CPUs is the current software ecosystem.