A few days before its launch on PC, Playstation 4 and Xbox One, Ubisoft today showcased the launch trailer of the long awaited new release of the saga of Assassin's Creed. NVIDIA has already optimized released for the title so make sure to update your drivers. Also take a look at the Assassin's Creed Origins system requirements.
Assassin's Creed Origins is a new vision of the franchise, taking advantage of the elements of the action RPG, in which players will level up, receive rewards and choose skills to customize own expert Assassin. The game will also feature a fully new combat system that will allow you to attack and defend multiple enemies at once and bring very special weapons against powerful and unique bosses. A renewed narrative experience will allow players complete freedom to choose and complete missions at their own pace, each with an intense and exciting story full of colorful characters and meaningful goals. With a whole country to explore, from the ardent deserts to the lush oasis, from the Mediterranean Sea to the tombs of Giza.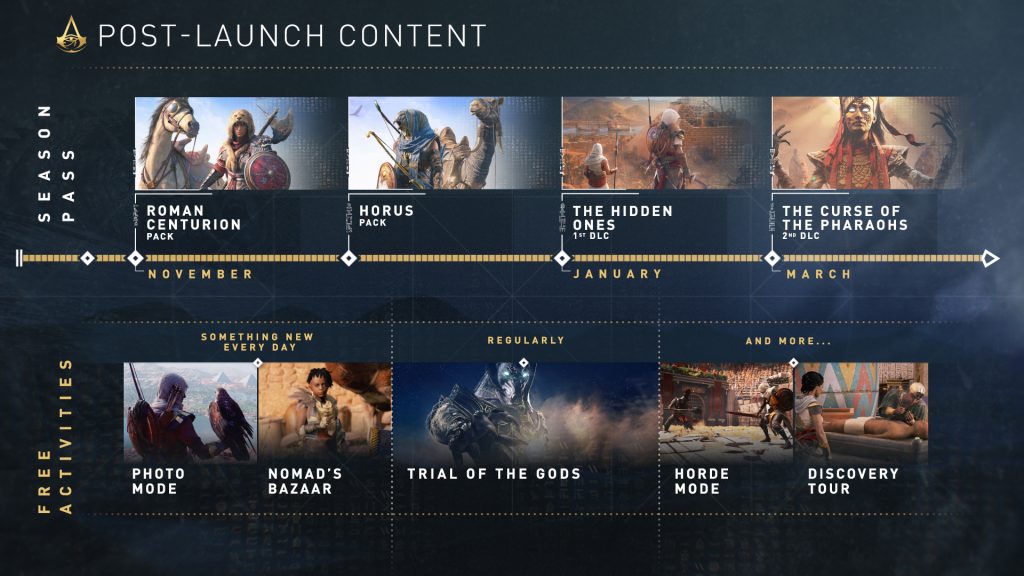 Assassin's Creed Origins Season Pass includes:
DLC 1 – "The Hidden": This story-focused expansion focuses on the growth of the Brotherhood, transporting users years after the events of Assassin's Creed Origins, as they battle against a Roman force occupying a new region; in addition, it will extend the level limit, allowing the players to access new skills and maintain the progress of their characters. Available in January 2018.
DLC 2 – "The Curse of the Pharaohs": This second update focuses on Egyptian mythology and invites players to fight undead Pharaohs and explore a new mystical realm. In their journey, users will encounter legendary Egyptian beasts such as Anubis warriors, scorpions and more, while investigating the origin of the curse that has revived the pharaohs of yesteryear. "The Pharaoh's Curse" will increase the level cap beyond and present new abilities. Available March 2018.
Package Horus and Roman centurions: Two exclusive extra packages that include new costumes, weapons, shields and mounts. Available in November 2017.
Helix 500 credit package: Representing a value of five dollars in real currency. Available on game launch day.
An exclusive special weapon: Known as the "Calamity Blade". Available on game launch day.
Assassin's Creed Origins will be available October 27, 2017 for Xbox One, PlayStation 4 and Windows PC. The game will also available to the Xbox One X on the day of its official launch on November 7, 2017.