ASRock today officially announced that they entered the graphics card market with the launch of AMD Radeon 500 series graphics cards. ASRock will be the exclusive AIB partner of AMD and will only sell graphic cards of the AMD Radeon series.
The graphics cards come with the name ASRock Phantom Gaming, while their more advanced models use the name Phantom Gaming X, which employ a high performance cooling system and an interesting dose of overclocking. All of them are accompanied by the ASRock Phantom Gaming Tweak application, which will allow Overlocking by playing with the frequencies and voltage, the speed of the fans, creating profiles depending on the temperature, as well as providing detailed information on the system.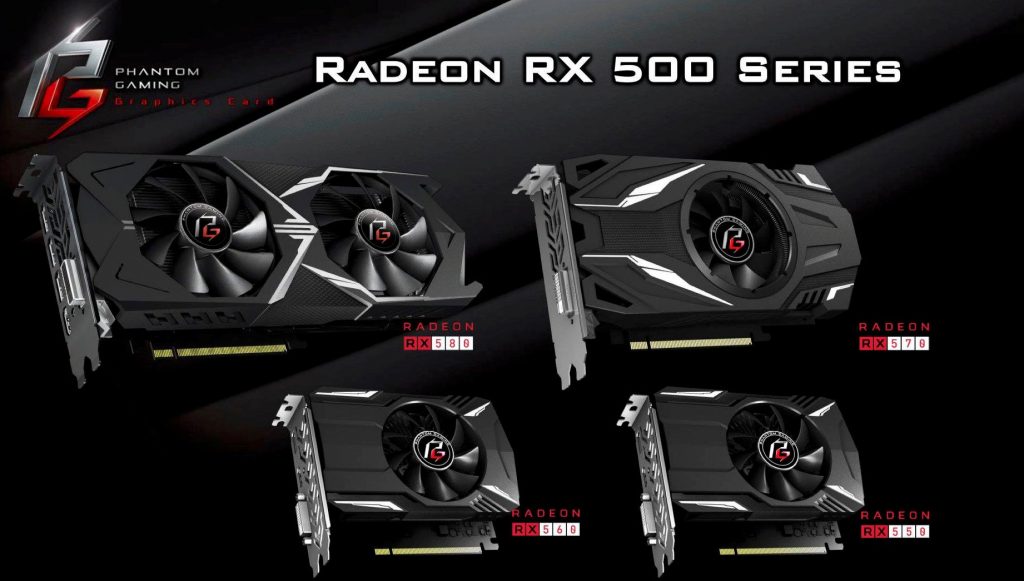 The company has not offered any real image (only renders) of the PCB of its graphics cards, and everything seems to indicate that it uses the reference PCBs, so it only adds the cooling system, which means that they will be focused on offering a product of lower cost compared to its rivals and we may have to wait for its new generation of GPUs to see a customized PCB.
The ASRock Phantom Gaming X Radeon RX 580 is the top-of-the-range model, which is nothing more than a Radoen RX 580 with overclocked frequencies that make the core reach 1435 MHz, while the 8 GB of GDDR5 memory reaches 8320 MHz (vs 1340/8000 MHz reference model).
ASRock Phantom Gaming X Radeon RX 570 is also based on reference PCB with frequencies of 1331 MHz and 7280 MHz respectively (vs 1244/7000 MHz reference model). The design and cooling solution of both graphics cards is identical, and this translates into an aluminum radiator traversed by three copper heatpipes together with a high performance thermal compound for contact with silicon. The cooling is completed with the use of a dual fan configuration with a double bearing design to increase its life between 50,000 and 100,000 hours of use.
The ASRock Phantom Gaming Radeon RX 560 and ASRock Phantom Gaming Radeon RX 550 are equipped with a much simple cooling solution (a mere aluminum heatsink with a single fan) in a Mini-ITX format.
The Radeon RX 560 comes with underclock to not compromise its temperature with a frequency of 1194/6240 MHz (vs. 1275/7000 MHz) and a curious configuration of 2 GB of GDDR5 memory. The Radeon RX 550 also underclock with a frequency of 1144/6240 MHz  (1183/7000 MHz) using 2 GB of GDDR5 memory like any other model. In regards to availability or prices, not a word.