The last day before the WWDC, Apple unveiled iMac all-in-one PCs. New all-in-one are available in models with a 21.5 inch display with a resolution of 1920 x 1080 or 4096 x 2304 pixels, and a 27-inch with 5K Retina display. However, the most interesting announcement was an Apple iMac Pro. 
Apple iMac Pro: 18-core Intel Xeon processor and AMD Radeon Vega graphics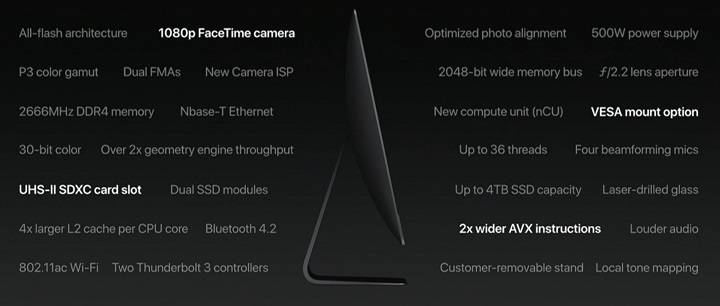 The most basic Apple iMac Pro offers a professional panel with 5K resolution  (5120 x 2880 pixels) with a P3 color gamut driven by an 8-core or 18-Core Intel Xeon next to an unknown Radeon Pro Vega 56 with 8 GB or 16Gb of HBM2 memory, 32 GB of memory ECC DDR4 @ 2666 MHz RAM and a 1TB capacity SSD as storage.
Other improvements include a 10Gb Ethernet port, a Thunderbolt 3, 4x USB 3.0, a FaceTime 1080p camera, WiFi connectivity 802.11ac + Bluetooth 4.2, and is compatible with a grateful VESA support. The base model in US will go on sale for $ 4,999.