After AMD released its new Radeon Software Crimson ReLive 17.9.2 driver by adding Crossfire support for Radeon RX Vega graphics card. Now new rumors indicate the launch of thirteen new graphics cards based on Vega 11 GPU core, to replace the RX 400/500 based on the Polaris 10 and Polaris 20.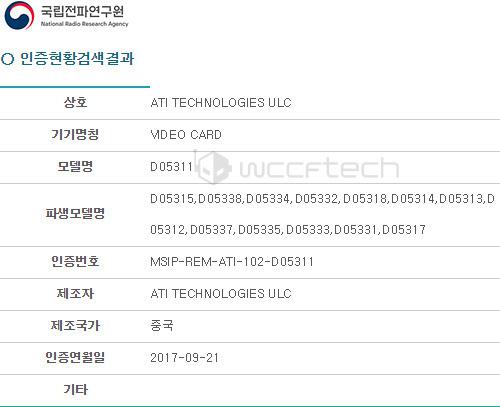 You Might Like: Radeon RX Vega 56: GPU Owners Report Different Configurations Of Vega 10 GPU Core
This information comes from an RRA certificate (a type of certificate required to launch this type of hardware) from South Korea, where these new graphics cards were seen. The names are RX Vega 32 and RX Vega 28, featuring the Vega11 XT GPUs of 2048 stream processors and Vega11 Pro with 1792 SP, correspondingly. The naming system that AMD is reportedly going to use makes sense, as it continues the way that they launched RX Vega: using the compute unit count (in this case 32 CUs for RX Vega 32 and 28 CUs for RX Vega 28) to name the card.
Where the rumors become little strange is that these new graphics cards would have 4GB HBM2 memory, which is quite expensive, which implies the use of a 1024-bit memory bus. If this ends up confirming, the new products of the red team would be competing in the area occupied by the GTX 1060 from NVIDIA.