If one goes up, the other must go down and currently Intel is bleeding to death because the value of its shares has fallen by more than 16 percent and on the other side AMD's shares are rising like foam, specifically 16.50 percent at the time of writing.
The reason is more than evident, and it is not only limited to the 7nm delay, because it seems like AMD has ended up positioning itself as the undisputed leader of the x86 architecture. This implies that not only it will lead the industry for many years in terms of performance or consumption, but will further increase the gap in terms of market share.
This at the investment level means a lot of money, and now AMD is postulated as a safe investment, while Intel is the opposite.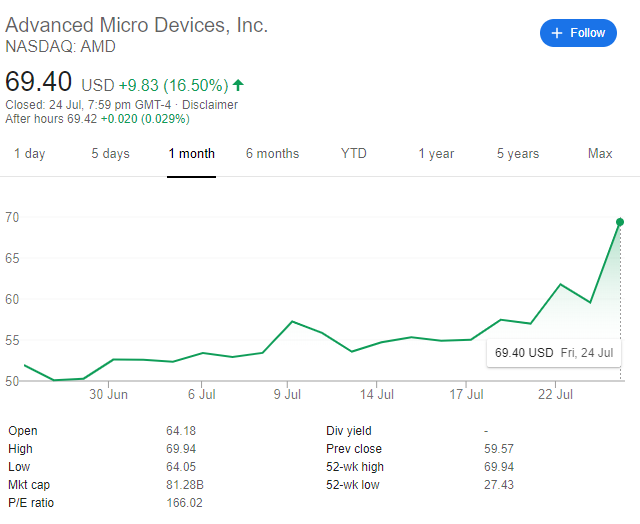 You Might Like: AMD Ryzen 4000 (Zen3) CPUs would offer more than 20% performance improvement
Quarter after quarter, AMD has been announcing record earnings, but… where has that money gone? Money, and time, is what investors and analysts may be asking themselves, since the company has even come to admit that it will not recover its technological leadership until 5nm, but of course, AMD would already be close to 5nm at the end of this year while that Intel will not do the same with the 7nm until the beginning of 2023 or the end of 2022 at best.
At the time of writing, Intel shares are down 16.23% and put the value of each share at $ 50.60, below the $ 69.40 worth of each AMD share, which is experiencing growth in 16.50 percent.