A user on Reddit forum posted something interesting, an unknown AMD Ryzen CPU available for Pre-Order sold through the official channel of the AMD  Shanghai on Taobao.
AMD Ryzen CPUs May Roll Out This Month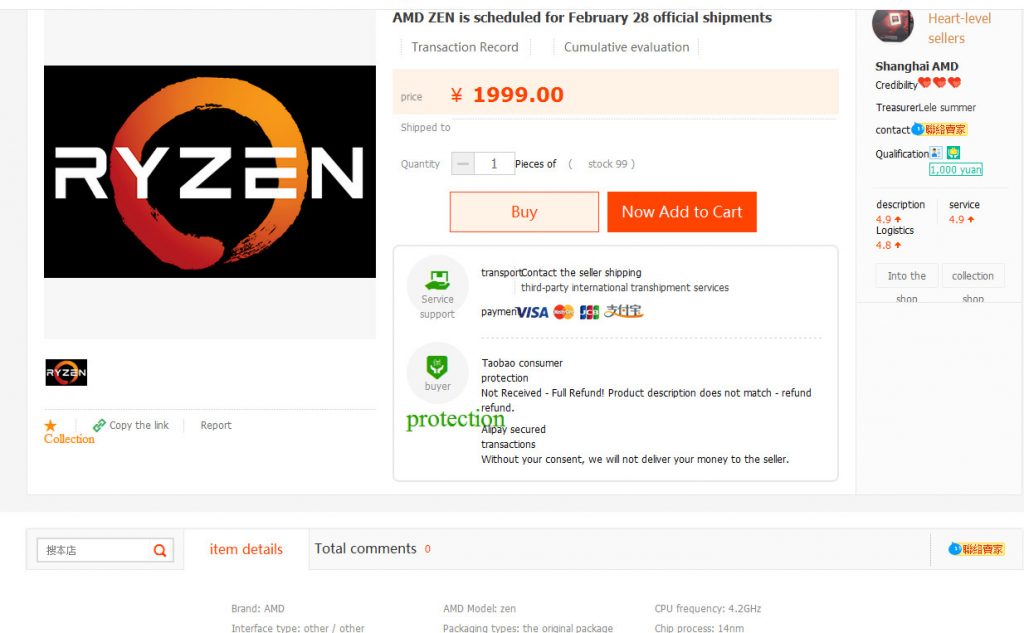 You Might Like: Intel to launch Core i7-7740K and Core i5-7640K to face AMD Ryzen
The specifications of the CPU are unknown, we only know that manufacturing process is 14nm, the base CPU frequency reads 4.2 GHz, at a price of at ¥1999.00 (around $295), very bad price if we are talking about a CPU with 4 or 6 cores, but rather good if 8 – core, as long as it outperform Intel Quad-Core processor.
At CES 2017, AMD showcased the performance of an engineering sample of AMD Ryzen 8-Core processor with 3.6 GHz base frequency and 3.9 GHz boost, so it is certainly conceivable that newer, release steppings have bumped the frequencies to 3.9 GHz/4.2 GHz respectively.
It is expected that the shipments will begin on the Febuary 28 of AMD Ryzen family, made up of models with 4, 6 and 8 cores, SMT enabled (the simile of HyperThreading) and also all models will be unlocked to be friendly to Overclockers.
AMD Ryzen R7, R5 and R3 Lineup Leaked
 AMD Ryzen Processor
Cores
Threads
Base / Turbo Frequency
Comparable performance
AMD R7 1800X
8
16
3.00 – 3.60 GHz
Core i7 6900K
AMD R7 Pro 1800
8
16
3.00 – 3.60 GHz
AMD R7 1700X
8
16
3.00 – 3.60 GHz
Core i7 7700K / 6800K
AMD R7 1700
8
16
3.00 – 3.60 GHz
Core i7 7700
AMD R7 Pro 1700
8
16
3.00 – 3.60 GHz
AMD R5 1600X
6
12
3.20 – 3.50 GHz
Core i5 7600K
AMD R5 Pro 1600
6
12
3.20 – 3.50 GHz
Core i5 7600
AMD R5 1500
6
12
3.20 – 3.50 GHz
Core i5 7500
AMD R5 Pro 1500
6
12
3.20 – 3.50 GHz
AMD R5 1400X
4
8
3.20 – 3.50 GHz
Core i5 7400
AMD R5 Pro 1400
4
8
3.20 – 3.50 GHz
AMD R5 1300
4
8
3.20 – 3.50 GHz
AMD R5 Pro 1300
4
8
3.20 – 3.50 GHz
AMD R3 1200X
4
4
3.10 – 3.40 GHz
AMD R3 Pro 1200
4
4
3.10 – 3.40 GHz
AMD R3 1100
4
4
3.10 – 3.40 GHz
AMD R3 Pro 1100
4
4
3.10 – 3.40 GHz
Via: TechPowerUp