AMD has updated the details of first two Threadripper CPUs to hit the market: the Ryzen Threadripper 1950X and the Ryzen Threadripper 1920X, where TDP and the L3 cache of both models has been revealed by Red camp.
AMD Ryzen Threadripper 1950X and 1920X will have a TDP of 180W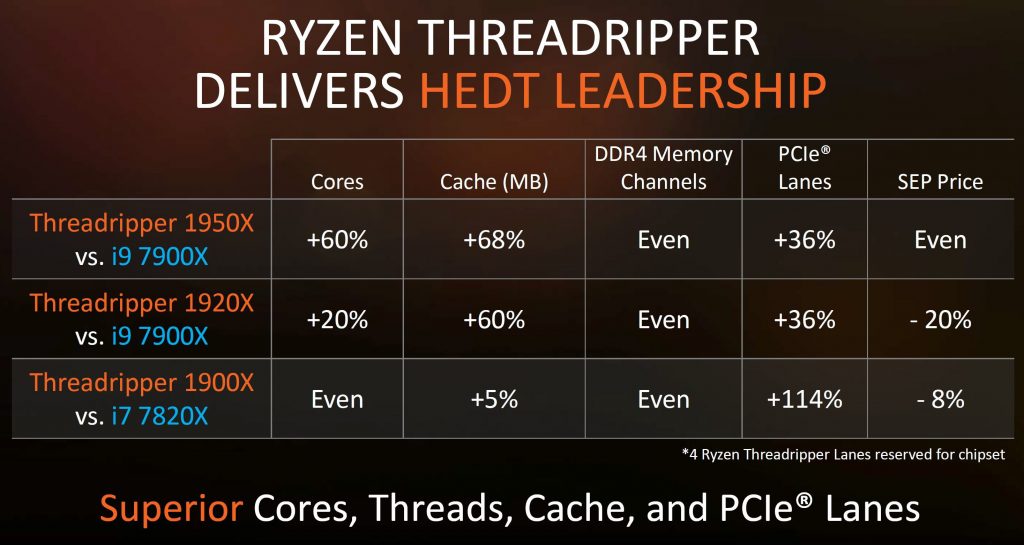 You Might Like: Lucky_n00b Overclocked Ryzen Threadripper 1950X to 5187 MHz; scored 4122 points
The Ryzen Threadripper 1950X offers 16 cores and 32 threads at a Base / Turbo @  3.40 / 4.00 GHz frequency along with 40MB of L3 cache and will be available for purchase on August 10 for $ 999, on the same day Ryzen Threadripper 1920X will also go on sale with 12 cores and 24 threads @ 3.50 / 4.00 GHz with 38 MB cache at a price of 799 dollars, both models sharing a TDP of 180W.
The Ryzen Threadripper 1900X, which offers 8 cores and 16 threads at a Base / turbo frequencies of 3.80 / 4.00 GHz with a price of 549 dollars will go on sale on August 31.
On the other hand, the Ryzen Threadripper 1950X is already the third best processor that is being sold on Amazon (USA), very good data knowing the price it handles.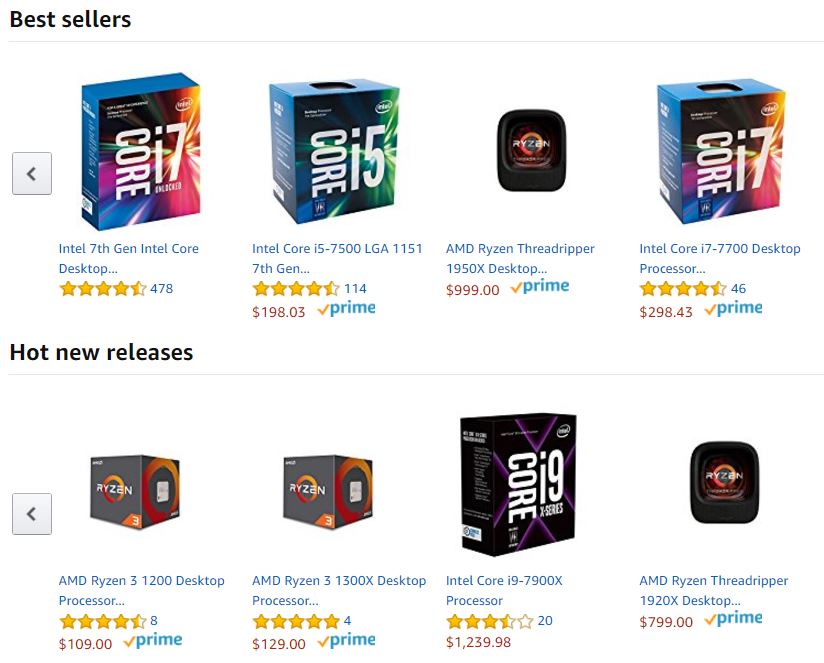 | | Cores/Threads | Base Clock | Turbo Clock | L2 / L3 Cache | TDP | MSRP |
| --- | --- | --- | --- | --- | --- | --- |
| Ryzen Threadripper 1950X | 16/32 | 3.4 GHz | 4.0 GHz | 8 MB / 32 MB | 180 Watts | 999 USD |
| Ryzen Threadripper 1950 | 16/32 | TBC | TBC | 8 MB / 32 MB | 180 Watts | TBC |
| Ryzen Threadripper 1920X | 12/24 | 3.5 GHz | 4.0 GHz | 8 MB / 32 MB | 180 Watts | 799 USD |
| Ryzen Threadripper 1920 | 12/24 | TBC | TBC | 8 MB / 32 MB | 180 Watts | TBC |
| Ryzen Threadripper 1900X | 8/16 | 3.8 GHz | 3.0 GHz | 4 MB / 16 MB | TBC | 549 USD |
| Ryzen Threadripper 1900 | 8/16 | TBC | TBC | 4 MB / 16 MB | TBC | TBC |
| Ryzen 7 1800X | 8.16 | 3.6 GHz | 4.0 GHz | 4 MB / 16 MB | 95 Watts | 499 USD |
| Ryzen 7 1700X | 8.16 | 3.4 GHz | 3.8 GHz | 4 MB / 16 MB | 95 Watts | 399 USD |
| Ryzen 7 1700 | 8.16 | 3.0 GHz | 3.7 GHz | 4 MB / 16 MB | 65 Watts | 329 USD |
| Ryzen 5 1600X | 6/12 | 3.6 GHz | 4.0 GHz | 3 MB / 16 MB | 95 Watts | 249 USD |
| Ryzen 5 1600 | 6/12 | 3.2 GHz | 3.6 GHz | 3 MB / 16 MB | 65 Watts | 219 USD |
| Ryzen 5 1500X | 4.8 | 3.5 GHz | 3.7 GHz | 2 MB / 16 MB | 65 Watts | 189 USD |
| Ryzen 5 1400 | 4.8 | 3.2 GHz | 3.4 GHz | 2 MB / 8 MB | 65 Watts | 169 USD |