After AMD Vice President Raja Koduri uploaded a photo of him on Twitter holding a PC with AMD Ryzen CPU, the stock cooler models were leaked for the AMD's new 65 and 95 watt TDP CPUs in Three variants.
AMD Ryzen Stock Heatsink Cooler Leaked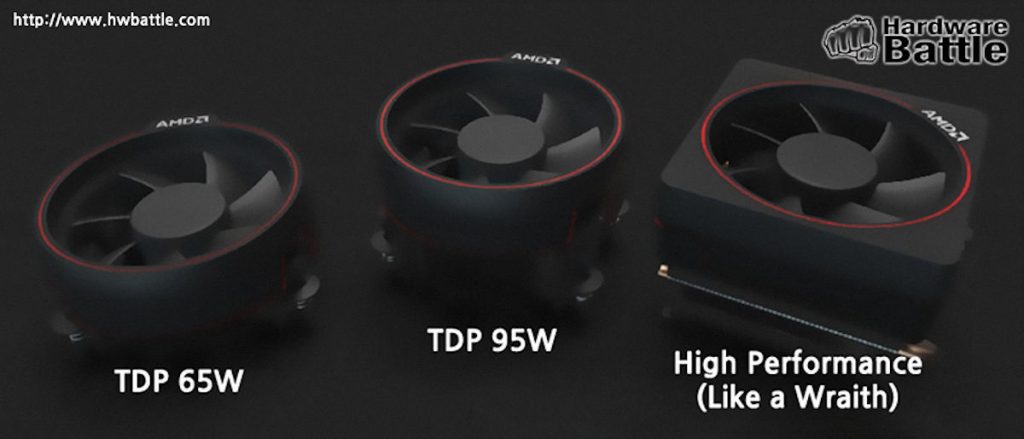 You Might Like: AMD Ryzen will not receive support or drivers for Windows 7
The simplest stock cooler is the circular one for models with a TDP of 65W. Then we have a variant for 95W with a larger size, which suggests that it features a heavy aluminum radiator or Heatsink, and then a redesigned version of AMD Wraith, the high-performance model that will arrive with AMD Ryzen 7 1700. All of them feature a ring with LED lighting.
As an example, regarding the current AMD Wraith Heatsink offered by the company with the AMD FX, its performance is quite similar to the Hyper 212 EVO, so  users will not be forced to buy a heatsink next to the processor. On the other side, Intel no longer offers heatsink with high-end processors, so the price of the CPU must be added to the heatsink, and there is a very big difference between each one has the option to choose whether to keep or change it.
AMD Ryzen R7, R5 and R3 Alleged Specifications:
 AMD Ryzen Processor
Cores
Threads
Base / Turbo Frequency
Comparable performance
AMD R7 1800X
8
16
3.00 – 3.60 GHz
Core i7 6900K
AMD R7 Pro 1800
8
16
3.00 – 3.60 GHz
AMD R7 1700X
8
16
3.00 – 3.60 GHz
Core i7 7700K / 6800K
AMD R7 1700
8
16
3.00 – 3.60 GHz
Core i7 7700
AMD R7 Pro 1700
8
16
3.00 – 3.60 GHz
AMD R5 1600X
6
12
3.20 – 3.50 GHz
Core i5 7600K
AMD R5 Pro 1600
6
12
3.20 – 3.50 GHz
Core i5 7600
AMD R5 1500
6
12
3.20 – 3.50 GHz
Core i5 7500
AMD R5 Pro 1500
6
12
3.20 – 3.50 GHz
AMD R5 1400X
4
8
3.20 – 3.50 GHz
Core i5 7400
AMD R5 Pro 1400
4
8
3.20 – 3.50 GHz
AMD R5 1300
4
8
3.20 – 3.50 GHz
AMD R5 Pro 1300
4
8
3.20 – 3.50 GHz
AMD R3 1200X
4
4
3.10 – 3.40 GHz
AMD R3 Pro 1200
4
4
3.10 – 3.40 GHz
AMD R3 1100
4
4
3.10 – 3.40 GHz
AMD R3 Pro 1100
4
4
3.10 – 3.40 GHz