The AMD Ryzen continue to capture a large market share, and far from the usual market that we always keep an eye on, we take a leap back to Japan, where the company continues to dominate the market comfortably with 63.8% of the market share compared to 36.2% of Intel, or in other words, of every 100 processors sold, practically 64 of them are an AMD Ryzen.
The data collected by the Japanese website BCN Ranking indicates that this market share only reflects the CPUs sold in stores, and does not include OEM equipment.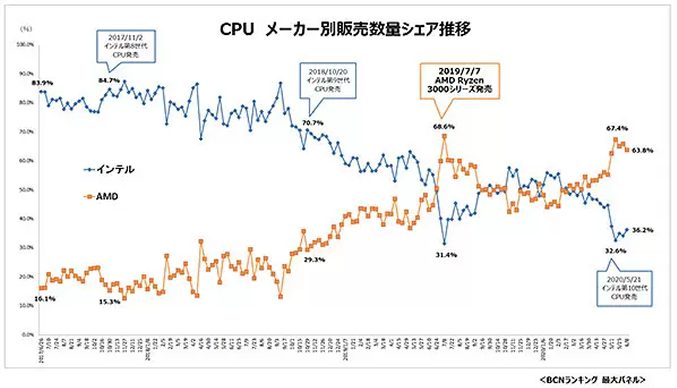 Although 63.8% is a generous market share, but it is less than the 67.4% that it came to present last May, and with the launch of Intel Comet Lake-S processors, the blue company experienced growth that made it go from having a market share of 32.6% to the current 36.2%.
As the launch of the AMD Ryzen 4000 approaches, the sale of the Ryzen 3000 will decrease and Intel will gain market share artificially. As an example, with the launch in Japan of the Ryzen 3000, the company achieved its record high market share of 68.6%, which led Intel to hit record lows with the remaining share of 31.4%.
If we want to look at the graph in another way, AMD has quadrupled its market share in Japan in a period of 3 years (16.1% for AMD vs. 83.9% of Intel on 26th June, 2017).