At the International Solid-State Circuits Conference (ISSCC), AMD presented a document that showed how its next high-performance x86 Core Zen architecture fits into an area of the die which is 10 percent smaller than the 14nm processor of Intel Skylake.
AMD Ryzen die is 10% smaller than the Intel Skylake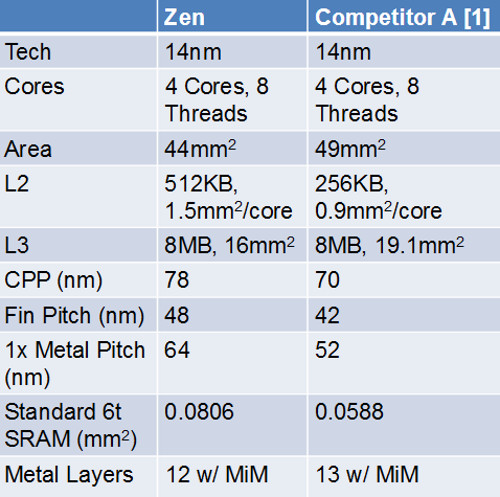 You Might Like: Intel to launch Core i7-7740K and Core i5-7640K to face AMD Ryzen
According to reports, analysts and Intel engineers who attended the conference, said that Zen core is clearly competitive, although it is still unknown that the advantage of die results in lower costs for only AMD or not. But at the moment one thing is clear that the chip will perform well in addition to being smaller, if AMD wants to capitalize on potentially higher profit margins, a smaller die could give it.
One of the ways that AMD improved its core ZEN compared with its previous products has been in the switching capacity of its new chips, with an overall improvement of 15%. Additionally, AMD has apparently moved to a metal-insulator-metal capacitor design, achieving lower operating voltages and a voltage control is now more accurate and better control of the core frequency, to become part of its Set of SenseMI technology.
Via: TechPowerUp