Following the leaks of AMD Ryzen, now we know the Base and Turbo frequencies of the whole family, added to the "X" frequencies in reference to the XFR technology (Extended Frequency Range), a second Turbo speed in the form of an Automatic Overclocking depending on the CPU temperature where the user will not have to do anything. The models that will benefit from this are Ryzen 7 1800X, Ryzen 7 1700X, Ryzen 5 1600X, Ryzen 5 1400X, and Ryzen 3 1200X.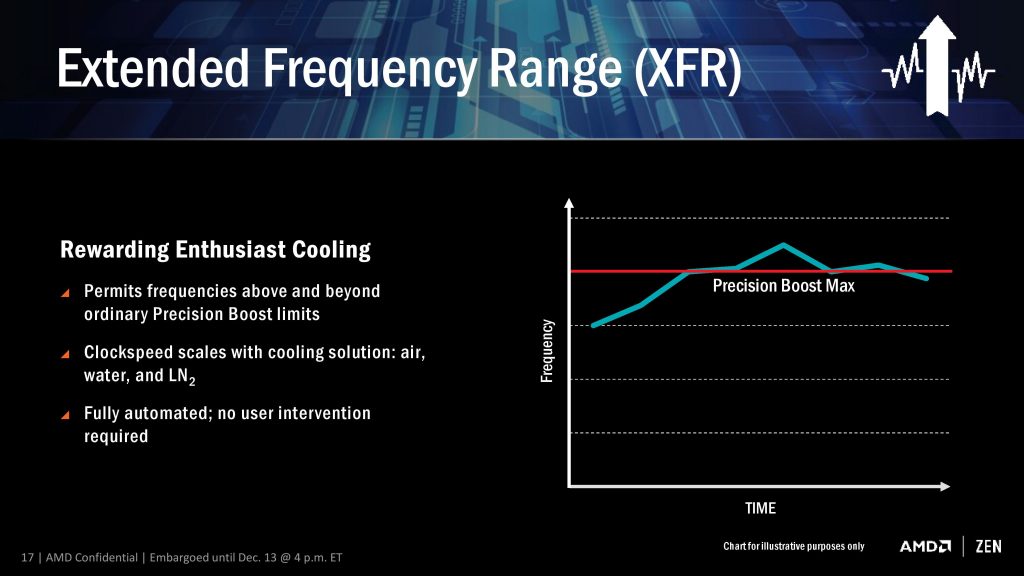 You Might Like: AMD Ryzen – Stock Cooler With LED Lightning For 65W and 95W CPUs Leaked
Unfortunately, we don't know the theoretical limit performance of the "X" models, we only know that it exceeds the Turbo frequencies, so the AMD Rising 7 1800x will easily cross 4.00 GHz+ on the better cooling solution, 3.80 GHz+ for Ryzen R7 1700X, 3.70 GHz  for the Ryzen 5 1600X, 3.90 GHz+ for Ryzen 5 1440X and 3.80 GHz for Ryzen 3 1200X. Below you can see the whole detailed specifications of AMD's next-Gen Ryzen family CPUs.
AMD Ryzen Line-up Specifications: 
AMD Ryzen CPU
Core / Threads
L3
TDP
Base Frequency
Turbo Frequency
XFR
Multiplier
Unlocked
Price
AMD Ryzen 7 1800X

8/16

16MB

95W

3.60 GHz

4.00 GHz

4.00 GHz +

Yes

€ 599
AMD Ryzen 7 1700X

8/16

16MB

95W

3.40 GHz

3.80 GHz

3.80 GHz +

Yes

€ 469
AMD Ryzen 7 1700

8/16

16MB

65W

3.00 GHz

3.70 GHz

N / A

Yes

€ 389
AMD Ryzen 5 1600X

6/12

16MB

95W

3.30 GHz

3.70 GHz

3.70 GHz +

Yes

$ 259

AMD Ryzen 5 1500

6/12

16MB

65W

3.20 GHz

3.50 GHz

N / A

Yes

$ 229

AMD Ryzen 5 1400X

4/8

8MB

65W

3.50 GHz

3.90 GHz

3.90 GHz +

Yes

$ 199

AMD Ryzen 5 1300

4/8

8MB

65W

3.20 GHz

3.50 GHz

N / A

Yes

$ 175

AMD Ryzen 3 1200X

4/4

8MB

65W

3.40 GHz

3.80 GHz

3.80 GHz +

Yes

$ 149

AMD Ryzen 3 1100

4/4

8MB

65W

3.20 GHz

3.50 GHz

N / A

Yes

$ 129