During the New Horizon event held today in Austin, Texas, AMD officially announced its next-Gen processor line-up based on ZEN architecture. AMD's Summit Ridge CPU for high-end desktop PCs is now known as Ryzen, this new family will arrive in the first quarter of 2017. In terms of specifications this new CPU will have 8 cores and 16 processing threads at a base frequency 3.40 GHz with auto-Overclocking mode where the CPU will increase its performance by temperature, which means that better cooling system will lead to a higher frequency for maximum performance. This is made possible by over 100 integrated sensors to calculate the millimeter and real – time millivolts, milliwatts and temperature.
AMD Ryzen Announced: Intel has a serious problem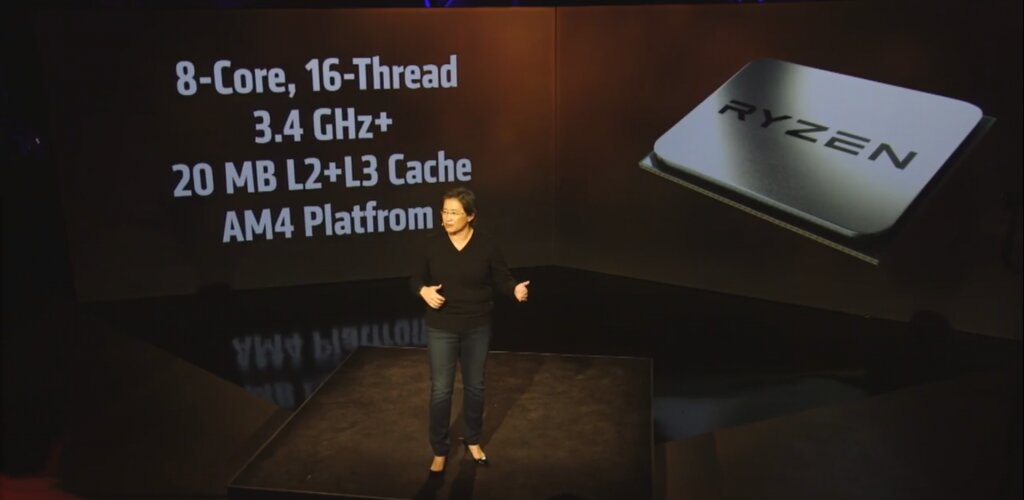 It will be accompanied by 20MB of cache L2 and L3 combined, and will support the new AMD SenseMI technology, which will improve performance by using five key components which we have already covered in yesterday leak:
Pure Power – over 100 sensors with an accuracy of millivolts, milliwatt to reduce consumption and improve performance.
Precision Boost – sensors that improve clock speed depending on CPU usage.
Extended Frequency Range (XFR) – detects the CPU cooling system by improving the frequency used.
Neural Net Prediction – an AI that predicts the future of CPU usage, improving and optimizing the application used.
Smart Prefetch – sophisticated algorithms that adapt to the behavior of the PC to anticipate user needs.
The most notable was the only performance test of AMD Ryzer with two benchmarks: Blender and Hanbrake a video transcoder. Both CPU extensive benchmarking softwares were tested with the same hardware (Radeon RX 480 + SSD 512GB + 8GB DDR4 @ 2400 MHz and Windows 10), where the only difference was in the processor, the AMD Ryzer against Intel Core i7-6900K CPU which is also equipped with 8 cores and 16 threads, but it costs almost 1,200 euros.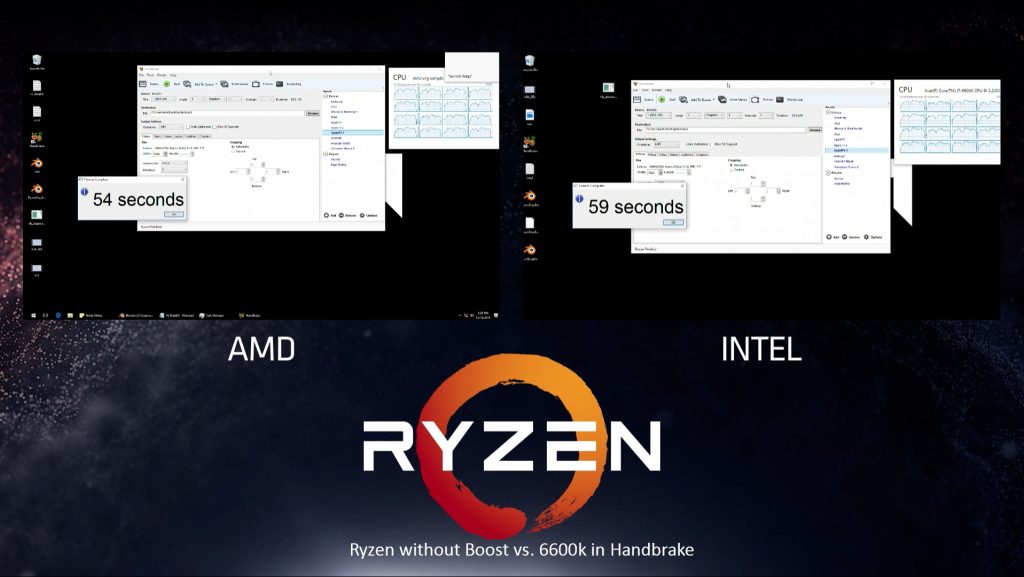 In Handbrake, AMD CPU Ryzen @ 3.40GHz winner ran with a yield of 69.5 SPF versus 66.5 SPF  (54 vs. 59 seconds) harvested by Core i7-6900K @ 3.70 GHz. With respect to Blender, AMD CPU won by 1 second (25.57 vs. 26.01 seconds). Besides price, another notable difference is the TDP:  95W for Ryzen and  140W for the Core i7-6900K (Broadwell-E @ 14nm).
Turning to the world of games, we could see a comparison of above mentioned two machines, comparing RYSEN against I7-6900K, both with an Pascal Titan X. Running the Battlefield 1 in 4K resolution with details on Ultra, and what was seen, both held more than 60 FPS, although RYSEN envisaged to play better during the explosions.
On the other hand, AMD showcased a completely red team PC with Rysen CPU and VEGA based Graphics card, this time running the last DLC for Star Wars: Battlefront in 4K with Ultra details.
In short: The AMD Ryzen processor is looking very promising in terms of price per performance ratio, because it would cost less than 400 euros with a fairly similar performance to a Core i7-6900K, also its power consumption is lower that the Core i7-6900k and you don't need to buy a very expensive LGA2011-3 platform.
AMD will reveal the rest of the information and gaming performance of new Ryzen processors at CES 2017 (first week of January).