Goodbye to rumors as now we can officially talk about AMD Ryzen, although only Ryzen 7 family, this means that initially 8 cores and 16 threads model CPUs. We have to wait for some time for the arrival of cheaper models that offer 6 and 4 cores. AMD Ryzen 7 is now available for pre-order and shipping will start from 2nd March, 2017.
AMD Ryzen 7 Now Available For Pre-Order
You Might Like: AMD Is Working On Overclocking Tool For Ryzen
AMD Ryzen represents many years of work and technological innovation in some of the hardest times for the company under the guidance of legendary CPU architecture Guru Jim Keller.
Perhaps the most interesting model of the new family is the Ryzen 7 1700X , 8 cores and 16 threads to a Base / Turbo frequency of 3.40 / 3.80 GHz with a TDP of 95W outperform Core i7-6900K in the Cinebench R15, a high-end processor from the Intel camp with a price tag of 1,115 euros.
If budget is not your problem, then Ryzen 7 1800x would be your best bet, with Base / Turbo frequencies of 3.60 / 4.00 GHz, defined as " 8 powerful core processor you can find in the market" by Lisa Su and it this processor exceeds by up to 9% of Core i7-6900K performance.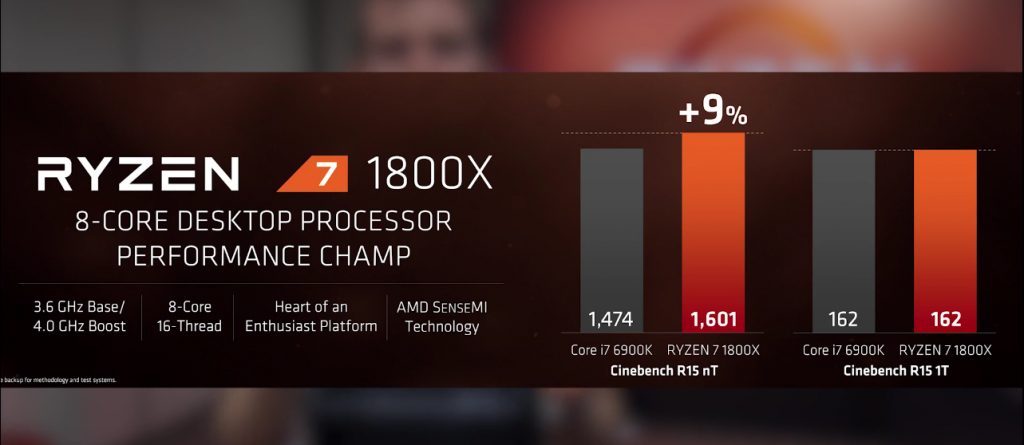 Finally, if you are looking for good performance at a good price, and the overclock is the least of your worries (without the XFR -extended frequency range), we have the Ryzen July 1700, at a frequency of 3.00 / 3.70 GHz with a TDP of 65W. In Cinebench this processor is 46 percent faster than the Core i7-7700K while costing about 70 euros less (it is estimated that this CPU will sell for 300 euros compared to 369 euros for Core i7-7700k).
AMD Ryzen 7 will have three CPUs to start, all having eight cores and supporting simultaneous multi-threading:
Ryzen 7 1800X: 8C/16T, 3.6 GHz base, 4.0 GHz turbo, 95W, $499
Ryzen 7 1700X: 8C/16T, 3.4 GHz base, 3.8 GHz turbo, 95W, $399
Ryzen 7 1700: 8C/16T, 3.0 GHz base, 3.7 GHz turbo, $329
AMD has collaborated with 185 stores to pre-order AMD Ryzen 7 from today, some examples are Amazon, NewEgg, Alternate, JD, TMALL, etcetera, etc. If you pre-order it now you have to wait until 2nd March, 2017.