We already have access to new performance tests of the AMD Ryzen 7 2700X together with the Ryzen 5 2600X and the Ryzen 2600 and as expected, nothing surprises us.
AMD Ryzen 7 2700X and Ryzen 5 2600X CPUs are tested by a french magazine CPCHardware. The magazine states that these CPUs are tested on a A320 motherboard, which is the entry level chipset, an upgrade from X370 to X470 doesn't deliver any substantial performance lift which shouldn't affect performance too much.
In the synthetic tests, the Ryzen 7 2700X was able to dominate being 14 percent faster than the Ryzen 7 1800X and 16 percent compared to an Intel Core i7-8700K that gets the third place. These benchmarks include PovRay, Blender 3D, 3DSMax and 4K decoding.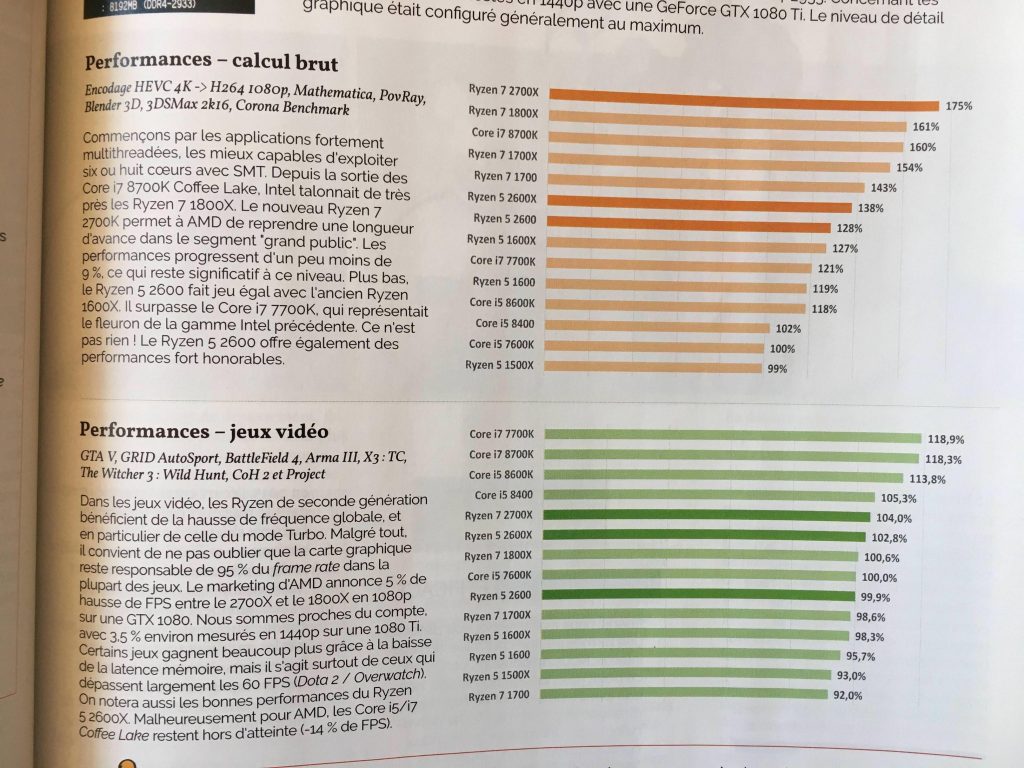 If we go to what interests us, the games, the Ryzen 7 2700X is 3.4 percent faster than the Ryzen 7 1800X  but it is not capable of surpassing the most basic Core i5, the Core i5-8400, which is a 1.3% more powerful, thus being quite far from a Core i7-8700K that is 14.3% more powerful in gaming. Some of the games used were: The Witcher 3, Grand Theft Auto V, Project Cars or Arma III.
On the other hand, in terms of power consumption, and as we had already anticipated, it not surprising to know that the performance improvement is linked to the increase in frequencies, seeing how the Ryzen 7 2700X consumes 13.2W more than the Ryzen 7 1800X, in addition to consume 38.9W more than a Ryzen 5 2600X that performs practically the same in games, so a better option is postulated.
The only notable improvement is in RAM access times, which although they improve significantly, are still far from what Intel is capable of offering.
AMD 2nd Generation Ryzen Specs:
| CPU Name | AMD Ryzen 5 2600 | AMD Ryzen 5 2600X | AMD Ryzen 7 2700 | AMD Ryzen 7 2700X |
| --- | --- | --- | --- | --- |
| CPU Family | Ryzen 2 | Ryzen 2 | Ryzen 2 | Ryzen 2 |
| Release Date | 19th April 2018 | 19th April 2018 | 19th April 2018 | 19th April 2018 |
| TDP | 65W | 95W | 65W | 105W |
| Total Cache | 19 MB (L2+L3) | 19 MB (L2+L3) | 20 MB (L2 + L3) | 20 MB (L2 + L3) |
| CPU uArch | 12nm Zen+ | 12nm Zen+ | 12nm Zen+ | 12nm Zen+ |
| CPU Threads | 12 | 12 | 16 | 16 |
| CPU Cores | 6 | 6 | 8 | 8 |
| Boost Clock | 3.9 GHz | 4.25 GHz | 4,1 GHz | 4.35 GHz |
| Base Clock | 3.4 GHz | 3,6 GHz | 3.2 GHz | 3.7 GHz |
| Memory Support | DDR4-2933 | DDR4-2933 | DDR4-2933 | DDR4-2933 |
| Cooler Bundle | Wraith Stealth | Wraith Spire | Wraith Spire LED | Wraith Prism |
| Price | $199 US | $249 US | $299 US | $369 US |