Today we have another performance test of AMD Ryzen 5 1600X in the Cinebench R15 which continues to confirm recent rumors we have seen so far, the Ryzen 5 1600X is faster than the Core i7-6800K with all cores active.
AMD Ryzen
5 1600X Beat Core i7-6800K in Cinebench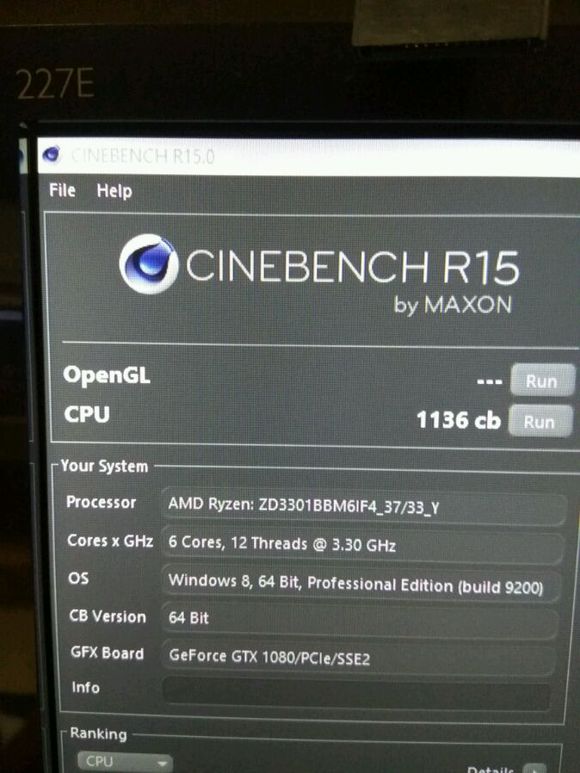 You Might Like: First Intel processor with AMD Radeon Graphics would arrive in 2017
With the 1,136 points  in the Cinebench benchmarking tool obtained by the Ryzen 1600X, we see how its 6 cores and 12 threads with a TDP of 95W beat the Core i7-6800K (TDP 140W. Also, you can see from the below screenshot that Core i7-6850K is just 18 points ahead. The most surprising thing is that the Ryzen 5-1600K CPU will cost about $260, while the Core i7-6800K costs almost $430 and a $590 for Core i7-6850K , not to mention that Ryzen platform is way cheaper when you add motherboard price starting from 150 euros with a powerful VRM for Overclocking with two M.2 ports and support for Multi-GPU @ x16 / x16 configurations.
It is expected that we will see a massive drop in prices from Intel side, or step might launch new processors Core i7-7740K and Core i5-7640K to face AMD Ryzen.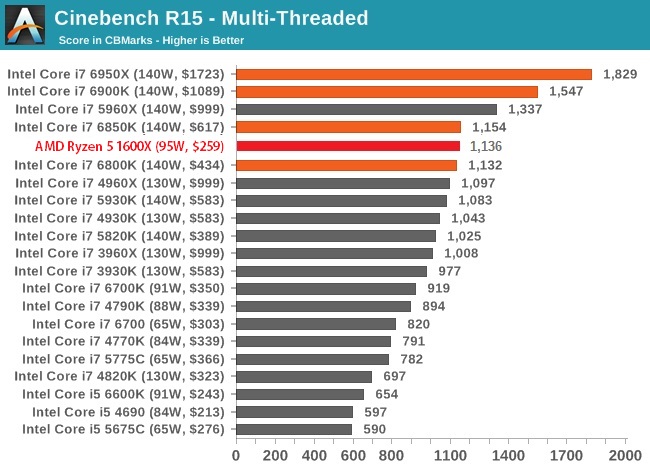 AMD Ryzen Specifications and Price:
Processor
Cores/Threads
L3
TDP
Base
Turbo
XFR
Overclocking
Unlocked
Price
AMD Ryzen 7 1800X
8/16
16MB
95W
3.6GHz
4.0GHz
4.0GHz+
Yes
$499
AMD Ryzen 7 1700X
8/16
16MB
95W
3.4GHz
3.8GHz
3.8GHz+
Yes
$389
AMD Ryzen 7 1700
8/16
16MB
65W
3.0GHz
3.7GHz
N/A
Yes
$319
AMD Ryzen 5 1600X
6/12
16MB
95W
3.3GHz
3.7GHz
3.7GHz+
Yes
$259
AMD Ryzen 5 1500
6/12
16MB
65W
3.2GHz
3.5GHz
N/A
Yes
$229
AMD Ryzen 5 1400X
4/8
8MB
65W
3.5GHz
3.9GHz
3.9GHz+
Yes
$199
AMD Ryzen 5 1300
4/8
8MB
65W
3.2GHz
3.5GHz
N/A
Yes
$175
AMD Ryzen 3 1200X
4/4
8MB
65W
3.4GHz
3.8GHz
3.8GHz+
Yes
$149
AMD Ryzen 3 1100
4/4
8MB
65W
3.2GHz
3.5GHz
N/A
Yes
$129