We already have the leaked details on the pricing of newly announced AMD Ryzen 3 CPUs, the company's most basic processors with 4 cores and 4 threads marking a 65W TDP. The AMD Ryzen 3 1200 (3.10 / 3.40 GHz) will go on sale for only 109 dollars, compared to 129 dollars that will cost for Ryzen 3 1300x (3.50 / 3.70 GHz).
AMD Ryzen
 3 1300X to cost $129 and 1200 for $109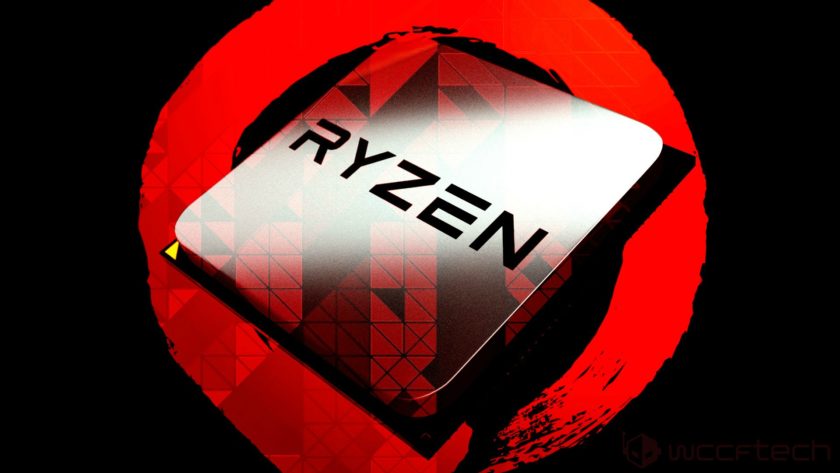 When it comes to performance, it's impressive for its price. The AMD Ryzen 3 1200 could go out to for a price around 110-120 euros, while its performance is comparable to the Intel Core i5-3570K through the performance test CPU Mark. If we are looking for a current CPU to extrapolate the data, we would have to go to the Core i5-7400, which costs 180 euros. You can find the Passmark entry for the Ryzen 3 1200 processor over here.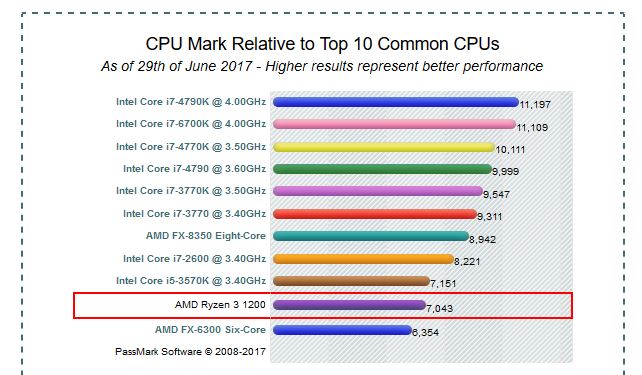 Unfortunately, we don't have the PC mark performance test of Ryzen 3 1300x, but according to these data, it would perform close to the Core i7-2600 (non-K). Anyway, we will have to wait for the first gaming benchmarks to see how these new processors perform in real world applications and games in comparison with Intel Core i5 and Core i7 at the price of Core i3.
AMD Ryzen and Threadripper Series Processor Specifications
| | Cores / Threads | Base Clock | Turbo Clock | L2 / L3 Cache | TDP | Price |
| --- | --- | --- | --- | --- | --- | --- |
| Ryzen Threadripper 1950X | 16/32 | 3.4 GHz | 4.0 GHz | 8 MB / 32 MB | 180 watt | 999 USD |
| Ryzen Threadripper 1920X | 12/24 | 3.5 GHz | 4.0 GHz | 8 MB / 32 MB | 180 watt | 799 USD |
| Ryzen 7 1800X | 8/16 | 3.6 GHz | 4.0 GHz | 4 MB / 16 MB | 95 watts | 499 USD |
| Ryzen 7 1700X | 8/16 | 3.4 GHz | 3.8 GHz | 4 MB / 16 MB | 95 watts | 399 USD |
| Ryzen 7 1700 | 8/16 | 3.0 GHz | 3.7 GHz | 4 MB / 16 MB | 65 watts | 329 USD |
| Ryzen 5 1600X | 6/12 | 3.6 GHz | 4.0 GHz | 3 MB / 16 MB | 95 watts | 249 USD |
| Ryzen 5 1600 | 6/12 | 3.2 GHz | 3.6 GHz | 3 MB / 16 MB | 65 watts | 219 USD |
| Ryzen 5 1500X | 4/8 | 3.5 GHz | 3.7 GHz | 2 MB / 16 MB | 65 watts | 189 USD |
| Ryzen 5 1400 | 4/8 | 3.2 GHz | 3.4 GHz | 2 MB / 8 MB | 65 watts | 169 USD |
| Ryzen 3 1300X | 4/8 | 3.5 GHz | 3.7 GHz | 2 MB / 8 MB | 65 watts | 129 USD (TBC) |
| Ryzen 3 1200 | 4/8 | 3.1 GHz | 3.4 GHz | 2 MB / 8 MB | 65 watts | 109 USD (TBC) |