According to DigiTimes, AMD has informed motherboard manufacturers that their new generation of AMD Ryzen CPUs, now known as Ryzen 2, will hit the market in February 2018. This platform is called Pinnacle Ridge, and will offer new optimized AMD Ryzen CPUs, that means a better performance, permanently solve any problem of compatibility with RAM and support higher frequencies.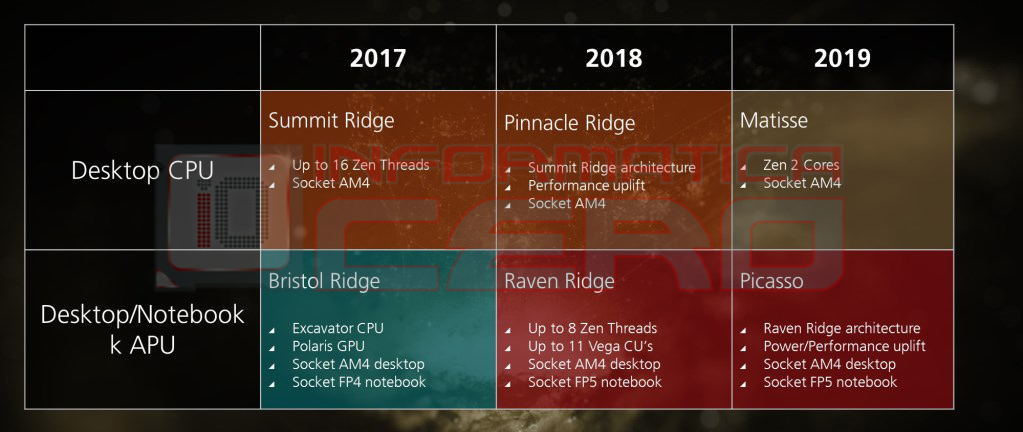 You Might Like: AMD denies the possibility of unlocking additional cores in Ryzen Threadripper
The good news does not end there, as we will have an improvement in all aspects at the level of the architecture itself, and additional improvements, such as the launch of a new manufacturing process of 12nm LP (Low Power) by Globalfoundries for 10 percent extra performance.
In April will see low-power entry level Ryzen 3 CPUs. The professional range would arrive in May 2018. These processors would use new motherboards with the X470 high performance chipset next to the B450 for the month of March (we do not know the details related to backward compatibility). On the other hand, AMD would discard the Ryzen name, and we would have Pinnacle 7, Pinnacle 5 and Pinnacle 3 CPUs.
Thanks to chip orders for Microsoft and Sony consoles, increased demand for graphics cards, increased sales of its Ryzen 7/5 processors, the new Ryzen Pro product line for the business sector, and of the high-end Ryzen Treadripper processors, AMD presents a 19% sequential growth in revenue for the second quarter of 2017 and expects the amount to grow 23% in this third quarter.