New benchmarks of AMD RX Vega 64 running Forza 7, show a completely unknown Vega, shattering the NVIDIA GTX 1080 Ti in 1080p resolution.
The new AMD RX Vega 64 graphics cards have been involved in the controversy since launch due to high power consumption, low performance in comparison with NVIDIA GeForce GTX 1080. Well, the folks over at ComputeBase come have shown several benchmarks of Forza 7, showing the unprecedented power of the AMD RX Vega 64 and AMD RX Vega 56 in this title.
The system used for the benchmarks was equipped with Intel Core i7 6850K, which works at a frequency of 4.3GHz thanks to Overclocking, 16GB of DDR4 RAM working at 3000MHz working in the Quad Channel. The drivers used are Crimson ReLive 17.93 for AMD and GeForce 385.69 for NVIDIA, the latest to be available and optimized for the Forza 7. In all test everything set to ultra settings with MSSA x8.
You Might Like: ASUS is working on ROG Strix Radeon RX Vega 64 graphics cards
In this game AMD graphics cards shown much higher performance in 1080p and in higher 4k resolution results are totally different. In 2K resolution the RX Vega 64 outperforms the GTX 1080 Ti, but the Vega RX 56 is below.
The jump is quite brutal, although it may be due the DirectX 12 game development. We will take this data as it is, but the possible justification of AMD Radeon RX Vega graphics cards in general have not been well received by users until now. If these benchmarks are confirmed, then finally AMD will face NVIDIA.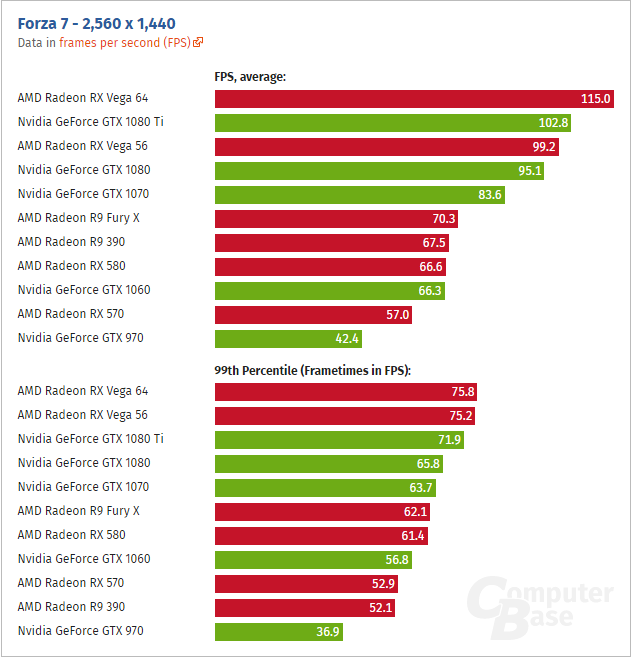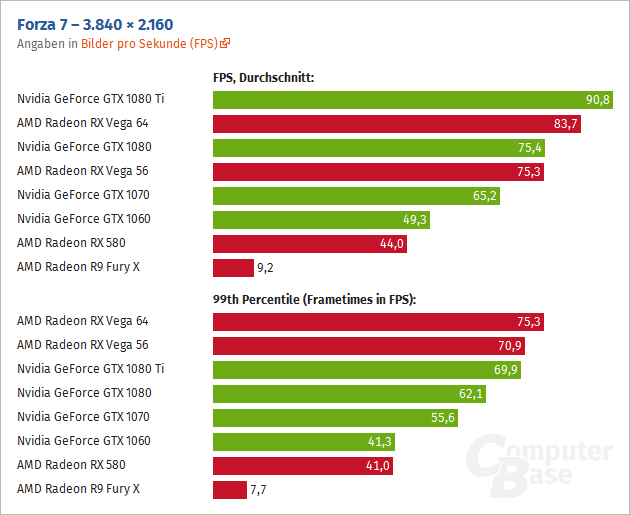 Source: ComputerBase