AMD's highly anticipated RDNA 3-based RX 7000 series cards are the talk of the town right now. Consumers are excited to see what AMD brings to the table this time around, as AMD will go head-to-head against Nvidia's RTX 4090 (or RTX 5000) cards.
When it comes to the RDNA 3 cards, there is not a surplus of information out there, especially compared to the RTX 4000 series, on which there has been a lot of information leaking due to a hack on Nvidia's database.
Also Read: AMD RX 7700 XT
However, we will make the most of what we have so far and sum up every piece of information we have so far about AMD's RX 7900 XT. As always, it's important to note that almost all of the information is based on leaks and can't be completely relied upon. Hence, we recommend digesting this information with a grain of salt.
You must also read everything to know about the similar AMD Radeon RX 7800 XT.
RX 7900 XT Specifications
The leaks about AMD's RX 7000 series have been going around for long, even before the RX 6000 series launched. But there wasn't much concrete information to rely on up until recently. Starting with the basics, AMD's RX 7900 XT and the RX 7000 series, in general, will be based on the RDNA 3 architecture from AMD.
Some information and a few guesses:
31=
~60WGP
~16GB 256bit GDDR6
~256M 3D IFC
~2.5GHz

32=
~40WGP
~12GB 192bit GDDR6
~192M 3D IFC
~2.6~2.8GHz

33=
~16WGP
~8GB 128bit GDDR6
~64M IFC
~2.8~3.0GHz

— Greymon55 (@greymon55) December 17, 2021
Earlier in December, Greymon55 shared some information and predicted a few of the specifications for the different RDNA 3 cards. Talking about Navi31 (RX 7900 XT), he said that it could feature 60 WGPs (Work Group Processors), which replace RDNA 2's compute units (CUs).
He also predicted 16 GB of GDDR6 across a 256-bit bus. According to this leak, it will feature 256 MB of L3 Infinity Cache, double that of RX 6900XT. Lastly, he mentioned a memory clock speed of 2.5 GHz.
Later on, more information was leaked, and the early leaks suggesting the 15360 shaders for Navi-31 were revised.
Many leakers suggested that the RX 7900 XT would feature AMD's multi-chip design so-called "MCM" or multi-chip module, similar to their higher-end Ryzen 5000 CPUs. This particular information was leaked way back in January of 2021 by Twitter user @davideneco25320.
Chiplet gpu by amd

— La Frite David 🇫🇷 (@davideneco25320) January 1, 2021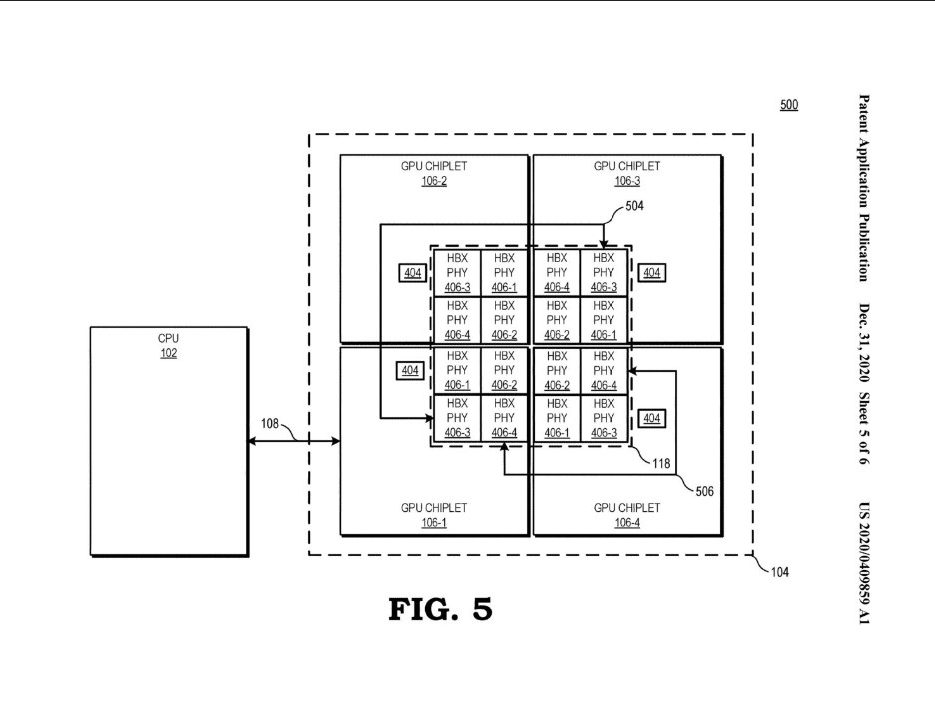 According to videocardz.com, it is expected that the Navi 31 and Navi 32-based cards would feature this multi-chiplet design. This MCM design supposedly provided much better yields than the monolithic design and was cheaper to produce.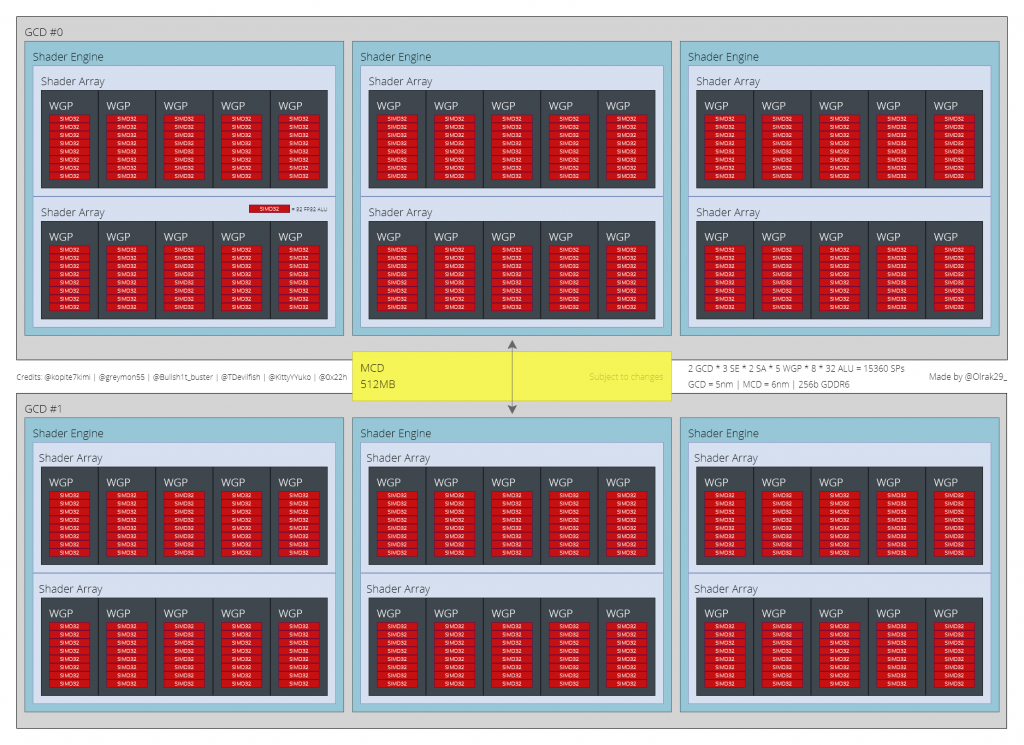 Twitter user @Olrak29_ then created a virtual layout of the Navi31 chip, which consists of two GCDs (Graphics Core Dies) which are connected by a bridge interconnect with 512 MB of (L3) Infinity Cache. The GCD would be based on TMSC's 5nm process, and the MCD would be based on the 6nm node.
On May 11th, leaker RedGamingTech, who has been a reliable source for RDNA 3 leaks, denied the earlier leaks suggesting the MCM design and speculated that the Navi 31 GPU would actually feature a single GCD.
The leaker has revealed this information after conversations with reliable Twitter leakers, including @kopite7kimi and @Greymon55. The leaker also shared a new breakdown of the possible specifications for the Navi31 chip.

This is not the first time the predicted specifications for the RX 7900 XT have been revised, as the number of shaders went from 15360 (from initial leaks) to 12288 shaders. Greymon55 confirmed that the performance targets would remain the same or even higher.
RedGamingTech predicts 2.1-2.5 times better rasterization performance and over 3.5 times better ray-tracing performance than the previous generation flagship card 6900XT. The computing performance target also remains the same, at 75 TFLOPs.
By the way, the performance goals remain the same and may even be higher.

— Greymon55 (@greymon55) May 2, 2022
According to leaker @Kepler_L2, the Navi 31-based RX 7900 XT might be (one of) the first card(s) to be based on the PCIe 5.0 interface, which offers transfer speeds of up-to 32 GT/s and a bandwidth of up-to 128 GB/s over an x16 configuration.
PCIe Gen5 16x for Navi31 pic.twitter.com/f53270NXpE

— Kepler (@Kepler_L2) May 4, 2022
According to Greymon55, the Navi 3x cards (aka the RX 7000 series) might feature a machine-learning chip, same as Nvidia has been doing for years now.
A few highlights of Navi3
chiplets
3D Infinity cache
Machine learning chip

— Greymon55 (@greymon55) January 29, 2022
RX 7900 XT Release Date
If circumstances were normal, we would be seeing the launch of RDNA 3 in 2021, which would mean AMD would be following its yearly schedule. But it was inevitable that the launch of RDNA 3 would be delayed considering the continuous chip shortages worldwide.
Thankfully, the launch of the RX 7000 series cards is looking to be definite for 2022. AMD CEO Lisa Su, during the January 2022 earnings call, said,
Turning to 2022. Demand for our product is very strong, and we look forward to another year of significant growth and share gains as we ramp our current products and launch our next wave of Zen 4 CPUs and RDNA 3 GPUs. We have also made significant investments to secure the capacity needed to support our growth in 2022 and beyond.
Thus, AMD seems to be confident that the launch of their Zen 4-based Ryzen chips and the RX 7000 cards will be taking place this year, citing that they made "significant improvements" to ensure the supply meets the demand.
In a (now deleted) tweet from Twitter user @Broly_X1, AMD's RX 7000 will be launching somewhere in the 4th quarter of 2022.
n31 tape-out Q3 2021
n33 tape-out Q4 2021
n32 tape-out Q1 2022

— Greymon55 (@greymon55) April 27, 2022
Greymon55 says that the tape-out process for Navi31 started in Q3 2021. Two days later, @3DCenter_Org tweeted, citing leakers Greymon55 and kopite7kimi as their sources, a table that predicts the approximate launch date for AMD's RX 7000 and Nvidia's RTX 4000 cards.
Tape-out, test phase and release times for nVidia AD102, AD103, AD104 and AMD Navi 31, 32, 33 – according to latest leaks by @Kopite7kimi and @Greymon55

Note: Can not be 100% accurate, but give you the big picture.https://t.co/MhM4sbcWXQ pic.twitter.com/cfAtAz87tX

— 3DCenter.org (@3DCenter_org) April 29, 2022
According to this leak, the AMD RX 7900 XT started testing "possibly at the start of 2022" with a launch expected around the beginning of 2023.
AMD 7900 XT Launch Price
Although the GPU prices have been stabilizing in the past few weeks and GPUs have been coming closer and closer to their MSRPs, we are still expecting a price bump for the 7900 XT compared to its predecessor.
The global component shortage is still quite prevalent, and the performance bump that RX 7900 XT is expected to offer might see a significant increase in price compared to 6900XT.
There is also the issue of AMD increasing the MSRP of their RX 6000 cards by 10%. This information comes from a thread on the Board Channel Forums (spotted by Videocardz.com).
According to the thread, the RX 6000 cards would see a price increase between $20 to $40, depending on the card.
The reason is that TMSC's cost for the manufacturing of chip wafers for AMD's cards has increased "way too much". Thus, we can also expect the RX 7000 cards to be affected by this, including the RX 7900 XT.
Get ready for $2000 7900XT (at a minimum) 😕 https://t.co/iUJdTNS7RQ

— Kepler (@Kepler_L2) April 28, 2021
Leaker @Kepler_L2 suggested that the 7900 XT could cost a whopping $2000, and that at a minimum (!). This is quite an old leak, though, and while we do expect a price bump, it likely won't be this extreme.
RX 7900 XT Power Draw
The power draw predictions for Navi 31 have been around the same mark for a few months, with most leakers predicting a power draw around the 400w to 450w mark.
The table mentioned above from RedGamingTech also predicts a TBP of 375 watts to 450 watts. This is also in line with YouTuber and leaker Moore's Law is Dead's prediction.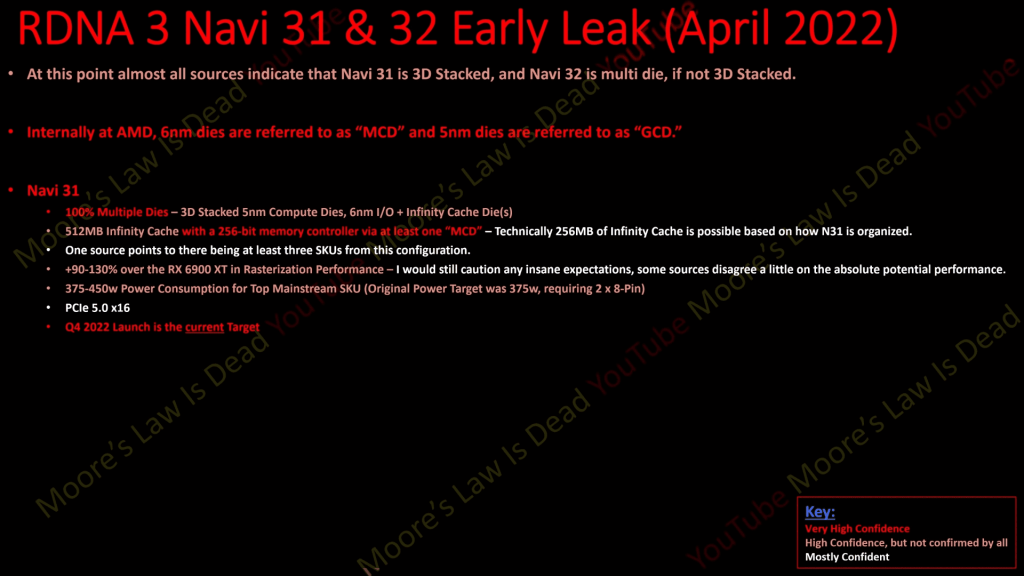 AMD RX 7900 XT Performance
As with every leak, performance targets are the hardest to estimate and can't simply be approximated through improvements in specifications.
However, popular leakers have noted that the rough "performance targets" for the 7900 XT, compared to its predecessor 6900XT.
As discussed above, leaker Greymon55 stated that the performance goals would remain the same for Navi 31, despite fewer shaders than what the previous leaks suggested.
The leaker alleged that the performance target for Navi 31 was "2.5x Navi 21", meaning 2.5 times more than the Navi 21-based 6900XT. We're assuming this refers to rasterization performance.
The original performance design goal was 2.5x Navi21. There are now changes, but I can't tell you the details.

— Greymon55 (@greymon55) April 30, 2022
Leaks from Moore's Law is Dead suggest a 90%-130% improvement in rasterization performance over RX 6900XT, but warns us to not be optimistic as some of his sources discard these performance claims.
Finally, the leak from RedGamingTech suggests a rasterization improvement of 2.1-2.5 times for RX 7900 XT compared to the RX 6900XT.
This, of course, is in line with Greymon55's statement. RedGamingTech has also suggested a massive 3.5 times better ray-tracing performance for AMD's RX 7900 XT than its direct predecessor.
Breakdown of Specifications for AMD RX 7900 XT
Generation: RX 7000 Series
Architecture: RDNA 3
Processing Node: TMSC 5nm and 6nm
No. of Shaders: 12288
No. of WGPs (Work Group Processors): 48
No. of GCDs (Graphics Core Dies): 1
Core Clock Speed: 3050 MHz
MCD (Multi-Cache Dies): 6 MCD x 32 or 64
No. of Shader Engines: 6
WGP Per SE: 8
Infinity Cache: 192 MB or 384 MB
Bus Width: 256-Bit
Memory (Memory Type): 24 GB (GDDR6)
FP32 Performance: 75 TFLOPs
Interface: PCIe 5.0 x16
Power Draw: 375 watts to 450 watts
Launch Date (Approximate): Q1 of 2023
Launch Price (Approximate): $1200-$1500
June Update
In terms of rumor updates, unfortunately not a lot has come out. However, there have been talks of a teraflops reduction in the RX 7900 XT graphics card. As we already know, the number of Stream Processors (SMs) for the RX 7900 XT have been reduced. On the other hand, the RTX 4090 is still coming with 18,432 CUDA Cores.
Adequately, purely in numbers, this means that the RTX 4090 is going to be much faster than the RX 7900 XT. According to PCGamesn, the RTX 4090 is going to break the 100 Teraflops ceiling! Meanwhile, as of now, the RX 7900 XT only sits at about 73 Teraflops.
Aside from the teraflop decrease, the RX 7900 XT might be the first graphics card that will come with PCIe Gen 5.0. Although it hasn't been confirmed for the RX 7900 XT, the Ryzen 7000 series processors will have PCIe 5.0. Therefore, it is not far-fetched to assume that the same will not happen for the RX 7900 XT.
Lastly, in terms of release date, we are still speculating that the cards will launch sometime in Q4 of 2022. Then again, seeing how the RTX 4000 series cards are listed to release in mid-July, these dates can always change.
Frequently Asked Questions
When Will AMD Radeon RX 7900 XT Release?
Leaks from reliable leakers kopite7kimi and Greymon55 on Twitter suggest that the Navi 31-based RX 7900 XT will launch somewhere in Q1'2023.
How much will the RX 7900 XT cost?
Owing to the continual global component shortages and the alleged performance targets for the RX 7900 XT, we might see it costing an upward of $1000, with an expected price somewhere between $1200-$1500.
What kind of performance can we expect from AMD's RX 7900 XT?
According to leaker RedGamingTech, AMD's performance target for the RX 7900 XT is 2.1 to 2.5 times better than the RX 6900XT in rasterization performance. We can also expect 3.5 times the ray tracing performance compared to its predecessor.
What will be the power draw of the RX 7900 XT?
Leaks suggest that the RX 7900 XT might draw somewhere between 375 watts to 450 watts in power.
What will be new in the RX 7900 XT?
The RX 7900 XT will be based on AMD's much-awaited RDNA 3 architecture, with major upgrades in core specifications over RDNA 2. This includes a much larger number of shaders and more infinity cache. Also, leaker Greymon55 hinted that Navi 31-based might contain a dedicated machine learning chip.
Was our article helpful? 👨‍💻
Thank you! Please share your positive feedback. 🔋
How could we improve this post? Please Help us. 😔