AMD is also adjusting the price of its top-of-the-range CPUs, and for that nothing better than lowering what is so far its top-end consumer processor, the Ryzen Threadripper 1950X.
The AMD Ryzen Threadripper 1950X is a 14nm processor equipped with 16 cores and 32 processing threads at a Base / Turbo frequency of 3.40 / 4.00 GHz accompanied by 8MB of Level 2 (L2) cache together with 32MB of L3 cache with a TDP of 180W, which competes in terms of performance with Intel's top-of-the-range CPU in the same segment, the Intel Core i9-7960X with the same 16-core and 32-wire configuration, but at a base / Turbo 2.80 / 4.20 GHz  frequency with a TDP of 165W.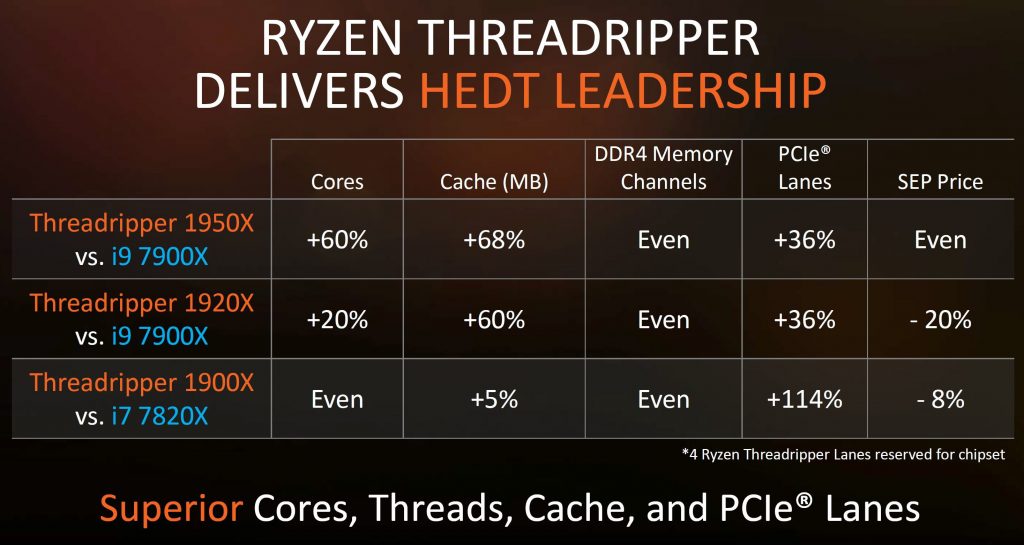 You Might Like: Ryzen Threadripper 1950X is 45% faster than the Core i9-7900X
Although the Ryzen Threadripper 1950X went on sale at an official price of $999, but now it is on sale for $870 plus shipping, while the Intel Core i9-7960X is on sale for $1,739 plus shipping.
It is unknown if AMD will begin to adjust the price of other Ryzen Threadripper processors, although it should be remembered that a few weeks ago the prices of AMD Ryzen CPUs were reduced.