The first graphics card based on VEGA 10 GPU Core with HBM2 memory is now available for pre-order. The AMD Radeon Vega Frontier is oriented to the professional sector, offering 4096 Stream Processors to a maximum frequency of 1600 MHz coupled with 16 GB of memory HBM2 @ 1,882 MHz and a 2048-bit memory interface, gives us a bandwidth of 483 GB / s (vs 512GB Radeon R9 Fury X) with a FP32 computational performance of 13.1 TFLOPs (vs. 8.6 TFLOPs).
AMD Radeon Vega Frontier Air-Cooler and Water-Cooled Variants Are Now Available For Pre-Order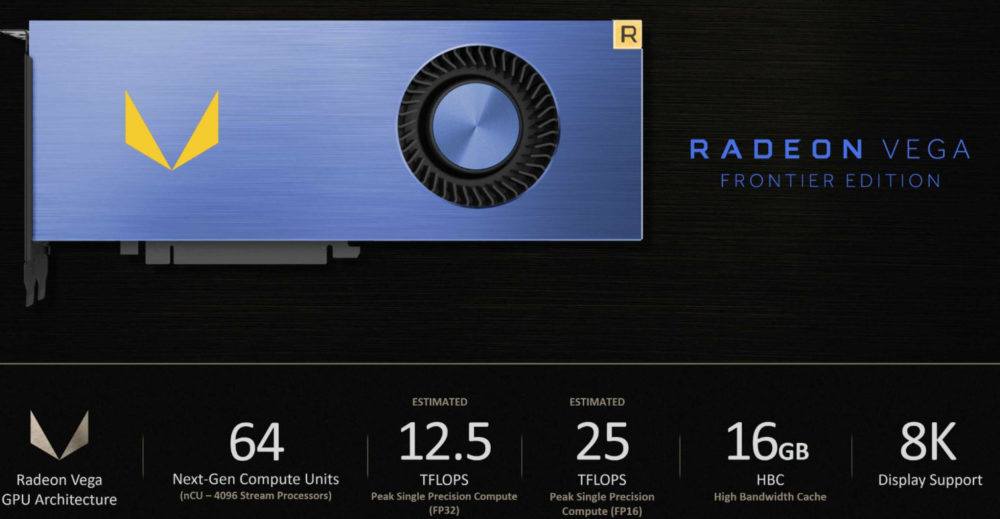 In the UK you can already find Radeon Vega Frontier in two variants: the air – cooled with a price of $1200 and the water cooled version, which sees as its price soars to $1800 (also offers more Overclocking potential).
Regarding its price (for air), it is not expensive, because it is an average of 34 percent faster than the top-of-the-range graphics card from NVIDIA with a price difference barely greater than 10 euros. Nevertheless, AMD is claiming that its Vega GPUs for gamers will be even faster. Without any additional details, though, that claim remains unverified.
AMD compares their Radeon Vega Frontier Edition against the TITAN XP, so we know that Radeon Vega Frontier AIR consumes up to 300W while Radeon Vega Frontier LIQUID uses up to 375W. Both cards easily beat TITAN XP in compute-heavy tasks as you can see in the charts with between 8% and 69% additional performance.