AMD announced a new graphics card, the Radeon Vega Frontier Edition, oriented to the professional sector (targeting data scientists, engineers and product designers). The new professional graphics card is based on VEGA silicon attached to 16GB of HBM2 memory powered by two 8 + 8-pin PCI-Express connectors. The graphics card can be found in both air and water-cooled variants.
AMD Radeon Vega Frontier Edition For Professional Sector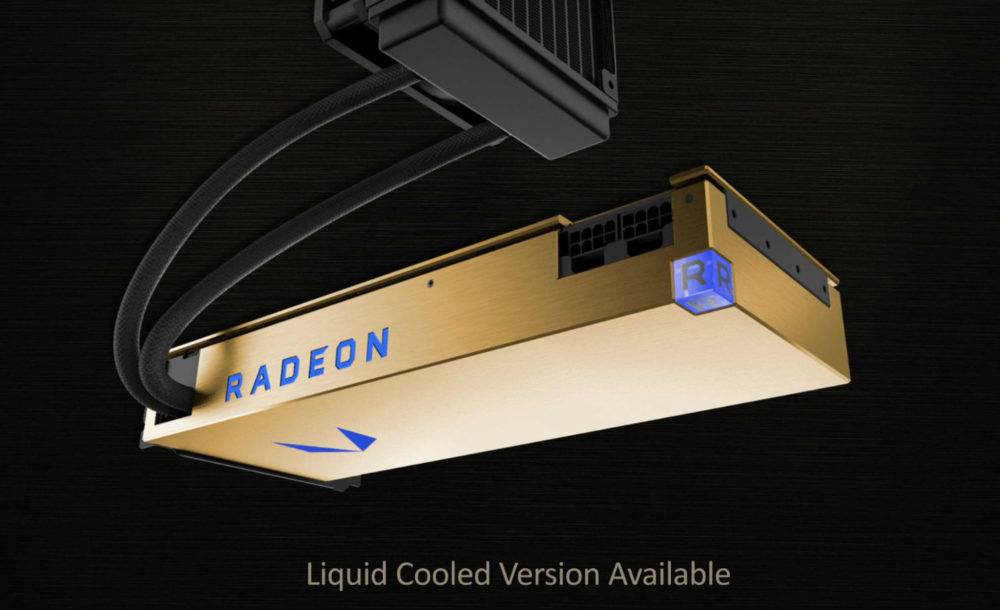 As far as performance is concerned, it's not that impressive, as the AMD Radeon Vega Frontier Edition delivers a 50 % FP32 performance over Radeon Fury X, which  translates to 13 TFLOPs, a matter of concern when FP32 performance is the most critical for the game development. We remind you that AMD has prepared three RX VEGA variants Core, Eclipse and Nova to compete with NVIDIA GeForce GTX 1070, GTX 1080 and GTX 1080 ti. On May 31 we will have more data.
AMD Professional Graphics card Specification Comparison

Radeon Vega Frontier Edition
Radeon Pro Duo (Polaris)
Radeon Pro WX 7100
Radeon Fury X
Stream Processors
4096
2 x 2304
2304
4096
Texture Units
?
2 x 144
144
256
ROPs
64?
2 x 32
32
64
Boost Clock
~1.59GHz
1243MHz
1243MHz
1050MHz
Single Precision
~13 TFLOPS
11.5 TFLOPS
5.7 TFLOPS
8.6 TFLOPS
Half Precision
~26 TFLOPS
11.5 TFLOPS
5.7 TFLOPS
8.6 TFLOPS
Memory Clock
~1.88Gbps HBM2
7Gbps GDDR5
7Gbps GDDR5
1Gbps HBM
Memory Bus Width
2048-bit
2 x 256-bit
256-bit
4096-bit
Memory Bandwidth
~480GB/sec
2x 224GB/sec
224GB/sec
512GB/sec
VRAM
16GB
2 x 16GB
8GB
4GB
Typical Board Power
?
250W
130W
275W
GPU
Vega (1)
Polaris 10
Polaris 10
Fiji
Architecture
Vega
Polaris
Polaris
GCN 1.2
Manufacturing Process
GloFo 14nm
GloFo 14nm
GloFo 14nm
TSMC 28nm
Launch Date
06/2017
05/2017
10/2016
06/24/15
Launch Price
???
$999
$649
$649