We start with the most attractive product from AMD, and this is none other than its top-of-the-range GPU, the AMD Radeon RX 6900 XT graphics card that has 5120 RDNA2 Stream Processors at a Turbo frequency of 2250 MHz, promising an improvement in performance per watt consumed of 57 percent compared to the AMD Radeon 5700 XT.
The rest of the specifications are completed with 16 GB of GDDR6 memory, presumably at 16 GHz, together with a 256-bit memory interface supporting the 128 MB Infinity Cache memory with a consumption of 300W of TBP (Total Board Power). This graphics card will be available on December 8 at a price of $ 999 compared to the $ 1,499 of its direct rival, the Nvidia GeForce RTX 3090, although the latter with 24 GB of GDDR6X memory.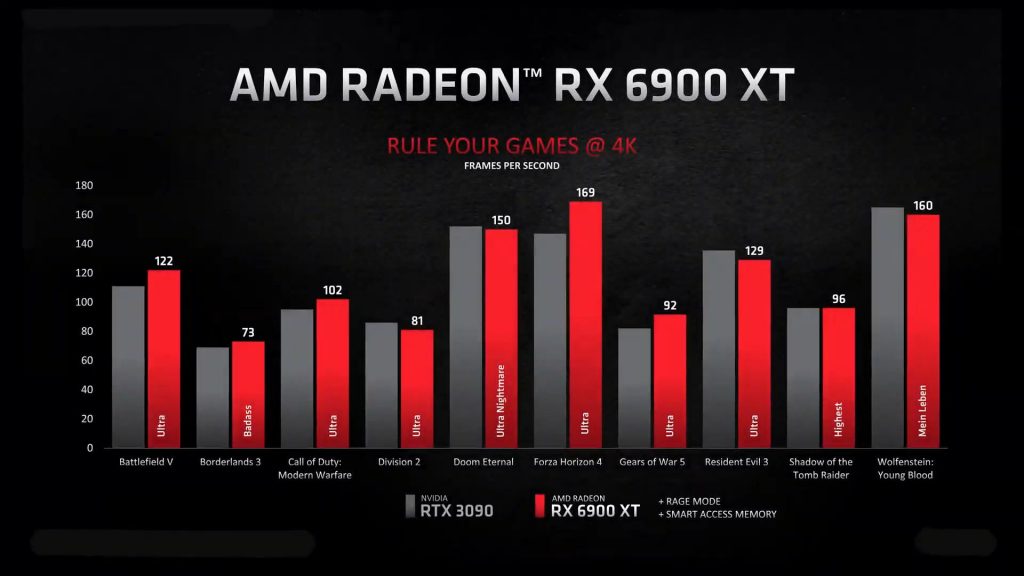 Apart from specifications, AMD has shown its benchmarks, with the Rage mode activated, which is like an automatic overclock linked to the temperature of the GPU, and the Smart Access (game optimized to take advantage of the Infinity Cache) at 4K performance, its performance is practically comparable to an Nvidia GeForce RTX 3090. Out of 10 games, AMD wins in 5 games, Nvidia wins in 4 other games and both are tied in one game.
Notably, no mention of RayTracing or any technology comparable to the Nvidia DLSS, so this difference in performance will be lower in games that take advantage of DLSS. In favor of AMD, you will get lower power consumption, small size and of course, less price.
Radeon RX 6000 series Specifications

| | RX 6900 XT | RX 6800 XT | RX 6800 |
| --- | --- | --- | --- |
| CUs | 80 | 72 | 60 |
| Process | TSMC 7nm | TSMC 7nm | TSMC 7nm |
| Game clock (MHz) | 2,015 | 2,015 | 1,815 |
| Boost clock (MHz) | 2,250 | 2,250 | 2,105 |
| Infinity Cache (MB) | 128 | 128 | 128 |
| Memory | 16GB GDDR6 | 16GB GDDR6 | 16GB GDDR6 |
| TDP (Watt) | 300 | 300 | 250 |
| Available from | December 8 | November 18 | November 18 |
| Price (USD) | $999 | $649 | $579 |