Officially, Multi-GPU configuration is a thing of the past because in terms of price performance ratio, it no longer compensates! also not to mention the lack of support in new game releases, but TweakTown decided to do some tests using AMD Radeon RX 6800 XT in Crossfire taking as an example four games with three different resolutions, and games strongly based on AMD technology were chosen, so they are hand-picked tests to show the best possible performance under the most ideal conditions.
In summary, the greatest performance gains were experienced at 4K resolution (evident), with a performance improvement starting at 57% with the Deus Ex Mankind Divided to 93% in Strange Brigade. At 2K resolution, the Deus Ex appears 5% slower, while the Sniper Elite 4 showcased performance improvement of up to 93%, while the Strange Brigde scales much worse with a performance improvement of the 66%.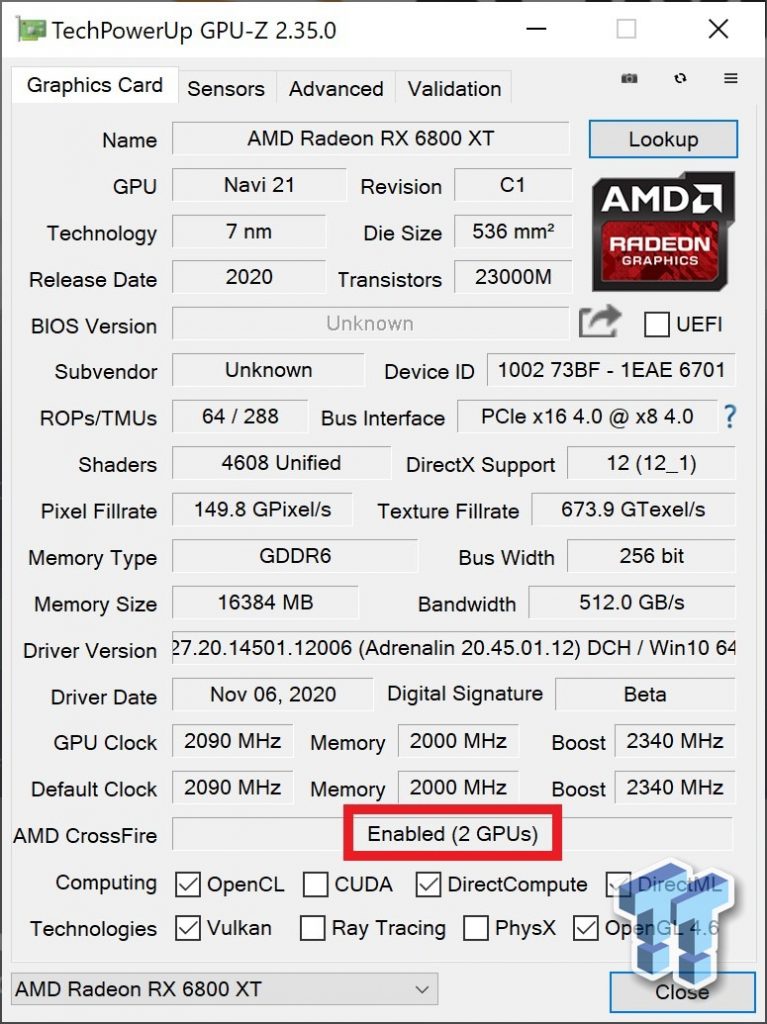 Benchmarks 2x AMD Radeon RX 6800 XT in Crossfire

Game
1080p (FPS)
1440p (FPS)
2160p (FPS)
Sniper Elite 4
312
486
156%
232
448
193%
145
255
176%
Strange Brigade
327
433
132%
243
404
166%
144
278
193%
Rise of the Tomb Raider
238
277
116%
196
272
139%
113
204
181%
Deus Ex Mankind Divided
134
135
101%
124
118
95%
70
110
157%
The performance varies a lot depending on the game, so it would have been interesting if a couple of current games had been tested, but if they have not done so, it will be for something, and that is that these configurations today do not deserve it's worth the extra cost for not having a performance that scales 1: 1, because two RX 6800XT would cost 1300 USD, although this card is nowhere to be found in stock and if they are, they are certainly not sold at this price.