AMD today announced the Radeon RX 6700 XT, a GPU that will come with 2560 Stream Processors under the RDNA2 architecture at a maximum frequency of 2424 MHz along with 96 MB of Infinity Cache, 12 GB of GDDR6 @ 16 GHz memory with a 192-bit memory interface and power consumption of 230W.
The specifications are completed with four video outputs in the form of 3x DisplayPort 1.4a and 1x HDMi 2.1, while its official price will be $ 479 , a price that has only been indicated for the reference model sold on AMD's official website.
The reference model employs a 10-layer PCB with two ounce copper, where a 10-phase power VRM is backed by two 8 + 6-pin PCI-Express connectors. The silicon is cooled by an aluminum radiator supported by three 6mm thick copper heatpipes and a dual fan configuration, while backplate will help dissipate the heat from the VRM and memory.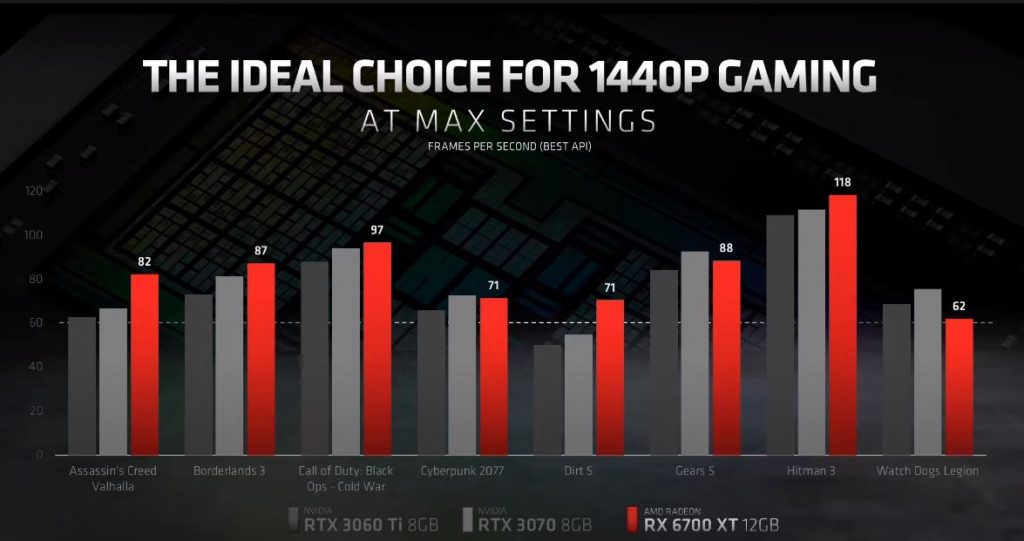 You Might Like: AMD and Nvidia confirm that shortage of GPUs will continue during Q1 2021
Regarding performance of AMD Radeon RX 6700 XT, according to AMD, and at a resolution of 1440p with maximum graphic quality, the AMD Radeon RX 6700 XT in most cases beat Nvidia GeForce RTX 3070, although in games like Watch Dogs: Legion, its performance is even lower than GeForce RTX 3060 Ti. Obviously, this graph came with 12 GB of memory as marketing, and that is why AMD wanted to indicate that the 8 GB of memory of the Nvidia GPUs fell short, but in reality this is not the case, the 8 GB does not generate any type bottleneck.
The AMD Radeon RX 6700 XT goes on sale on March 18 , and the question will remain same if we are facing a 'Paper Launch' since thousands of bots will seek to buy the little existing stock to use these graphics cards for the mining of cryptocurrencies or for resale at much higher price.